MONSTER MASH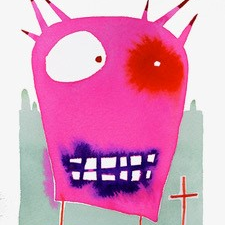 Sue Ninham,
Beryl Parties
, Painting, 150 x 240mm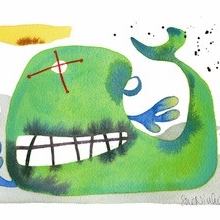 Sue Ninham,
Not Happy Moby
, Painting, 150 x 240mm
Established
Painting
Sue Ninham
In 2011 Sue began to paint a series of watercolour creatures or Monsters. Her father had died not long before and she was very sad. She was also prolific in her creative output at this time and the Monsters were a part of this outpouring of creative energy. They were playful and quirky, despite her sadness. There were buses and birds. There were spacemen landing and pirates sailing. Some trotted, some trundled and some were moving with speed. They were all unexpected.
Sue painted hundreds of them over the next two years, naming them and writing a story for each. She designed the winning 2012 Fringe poster, featuring nine of them. They have been quiet for a while but are stirring again. They will be unleashed for SALA 2019. Watch out!