"A Road Less Travelled" A Sculpture Retrospective By Greg Johns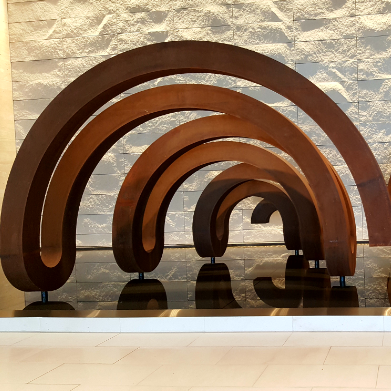 Greg Johns,
A Road Less Travelled
, Sculpture
Established
Sculpture
Greg Johns
The lawns of d'Arenberg winery now host fifteen sculptures from acclaimed Adelaide sculptor Greg Johns. 'A Road Less Traveled' is the largest ever exhibition by this artist, whose sculptures are displayed in public spaces throughout Australia and Europe including a recent purchase of a large sculpture by actress Cate Blanchett for her UK home.

Greg Johns is one Australia's most celebrated sculptors, with a career spanning 45 years. Through the medium of steel, Johns creates beautiful elegant, organic and earthy forms.

Greg Johns' lifelong artistic commitment has resulted a in treasure-trove of profound artworks that range from complicated geometrics that would impress fans of Escher to timeless organic forms that pay homage to Australia's indigenous people. Each sculpture has its own narrative, and that narrative has meaning and relevance, it is these deep- seated values that are at the heart of each hand made artwork, they transcend space and time and are ideally suited to natural environments.

The sculptures vary in size from 2-3 meters to breathtaking monolithic sized artworks destined for public installation. These painstaking creations are a daunting undertaking for even the most ambitious of artists, each is a testimony to sheer willpower and unswerving belief in the final result. Many of these exquisite sculptures by Greg Johns have found their way onto 4 continents and a large-scale artwork was recently purchased by Australia's own renowned actress Cate Blanchette for her UK home.

We hope that you will enjoy the d'Arenberg sculpture garden featuring some of the more modest sized artworks by Greg Johns, what a privilege it is to present such an important Australian artist to the thousands of visitors who attend the winery year-round.

1-31 Aug
Mon-Sun 10am-5pm