Past Artists in Residence
SALA Festival has partnered with various organisations to offer an array of artist-in-residence opportunities to South Australian artists. These residency opportunities allow artists to access extraordinary spaces to make work and develop their arts practice and engage with different sectors of the local community.
Click on the below expandable headings to learn more about each residency.
Tap on the + symbols below to learn more about each residency.
Artist Julia Boros was selected as the 2022 SALA Artist in Residence with Arts in Health at Flinders Medical Centre and was invited to be 'in residence' with Arts in Health for up to 3 months, with access to selected allied health, medical, and research areas throughout their time with FMC. This residency culminated in the exhibition 'Capacity', where Julia explored the hospital environment through the materiality of patient experience. For more about this residency, you can visit Julia's website.
Joel Plevin – Carlton School
Gus Clutterbuck – John Pirie Secondary School
Tony Kearney – Keller Road Primary School
Gemma Rose Brook – Roma Mitchell Secondary School
Find out more about the Credit Union SA Artists in Schools Program here.
Billy Oakley – Le Fevre High School 
In 2021, emerging artist Billy Oakley was paired with Le Fevre High School as part of the SALA Artist in Schools Program, presented in partnership with Credit Union SA.
In 2021, Tutti Arts hosted South Australian artist Jake Holmes as the inaugural 2021 SALA Artist in Residence. Holmes is a nationally-recognised printmaker and co-founder of the contemporary artspace Tooth and Nail Studio Gallery (2011-2018). During the residency, Holmes worked alongside the visual artists of Tutti Arts – South Australia's leading multi-arts organisation for artists living with learning disabilities. The resulting exhibition and artist talk illuminates a dynamic artistic exchange between Holmes and the visual artists currently practicing at Tutti's Brighton studio.
Established in 1997, Tutti has become a vital part of South Australia's cultural and artistic life, with artists across all art forms achieving increasing recognition. Tutti's Visual Arts Studio Program currently supports over 70 self-identified learning-disabled artists over three locations in South Australia and is committed to a residency program which supports emerging artists to engage creatively with other artists and discover diverse networks.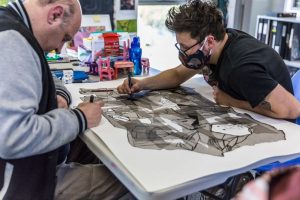 photo by P. Soteriou
SALA Artists in Schools Program, presented in partnership with Credit Union SA:
Avenues College – Thomas Readett
Christies Beach Primary School – Dave Court
Lobethal Primary School – Louise Flaherty
Northern Adelaide Senior College – Jimmy Dodd
The Grove Education Centre – Henry Jock Walker
Stuart High School – Olivia White
Click through for images from the 2020 Artists in Schools Residencies.
Known for her video installations and sculptural work which often intersect, Bycroft is a multi award-winning artist whose work has been exhibited all over the world -most recently at this year's Venice Biennale and the 2019 Milan Design and Architecture Triennale.
Bridgette Minuzzo and Sonya Unwin
The Space Within
Unwin's large-scale paintings featured staff at the forefront of medical research that could be life-changing. They included Professor Julio Licinio and Professor Ma-Li Wong, a husband and wife team working on depression. "I spoke informally to people about their area of research and then thought about how I would translate that visually," Unwin said.
Minuzzo made video, jewellery and photographic works that highlight the building and the "pattern, light, shade and complexities of medical research". Recordings of the heart, breath and Minuzzo singing elements of the periodic table accompany a video manipulating architectural features. Equilateral triangles — "a very important unit of the building" — are the building blocks of her jewellery. "There's pictures of the building on the jewellery, so people can wear a piece of SAHMRI," Minuzzo said.  [source]
Steven Cybulka
Chosen as Adelaide Festival Centre's inaugural artist-in-residence was emerging sculpture/installation artist Steven Cybulka. A recent graduate of Adelaide College of the Arts and builder by trade, Cybulka spent five months as artist-in-residence at Adelaide Festival Centre, translating his building skills into art in response to the people, spaces and architecture.
The end result of the residency was Cybulka's exhibition Creating Spaces, a permanent installation of uniquely site responsive compositions in the Space Theatre foyer at Adelaide Festival Centre. The installation, made up of wooden geometric shapes, responds to the energy, atmosphere and physical structure of the building – one of Adelaide's architectural landmarks. 
The exhibition was designed to build upon the already existing vibrant visual arts program currently in place at Adelaide Festival Centre by creating engagement, interaction and a revitalisation of its spaces of presentation.