Past Artists in Residence
SALA Festival has partnered with various organisations to offer an array of artist-in-residence opportunities to South Australian artists. These residency opportunities allow artists to access extraordinary spaces to make work and develop their arts practice and engage with different sectors of the local community.
View past residencies in the list below.
Billy Oakley – Le Fevre High School 
In 2021, emerging artist Billy Oakley was paired with Le Fevre High School as part of the SALA Artist in Schools Program, presented in partnership with Credit Union SA.
In 2021, Tutti Arts hosted South Australian artist Jake Holmes as the inaugural 2021 SALA Artist in Residence. Holmes is a nationally-recognised printmaker and co-founder of the contemporary artspace Tooth and Nail Studio Gallery (2011-2018). During the residency, Holmes worked alongside the visual artists of Tutti Arts – South Australia's leading multi-arts organisation for artists living with learning disabilities. The resulting exhibition and artist talk illuminates a dynamic artistic exchange between Holmes and the visual artists currently practicing at Tutti's Brighton studio.
Established in 1997, Tutti has become a vital part of South Australia's cultural and artistic life, with artists across all art forms achieving increasing recognition. Tutti's Visual Arts Studio Program currently supports over 70 self-identified learning-disabled artists over three locations in South Australia and is committed to a residency program which supports emerging artists to engage creatively with other artists and discover diverse networks.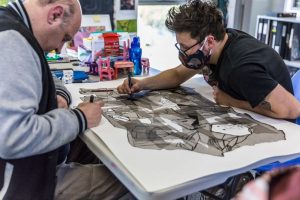 photo by P. Soteriou
SALA Artists in Schools Program, presented in partnership with Credit Union SA:
Avenues College – Thomas Readett
Christies Beach Primary School – Dave Court
Lobethal Primary School – Louise Flaherty
Northern Adelaide Senior College – Jimmy Dodd
The Grove Education Centre – Henry Jock Walker
Stuart High School – Olivia White
Click through for images from the 2020 Artists in Schools Residencies.
Adelaide Studios Artist in Residence.
Artist: Madison Bycroft
Known for her video installations and sculptural work which often intersect, Bycroft is a multi award-winning artist whose work has been exhibited all over the world -most recently at this year's Venice Biennale and the 2019 Milan Design and Architecture Triennale.