Every year, an established South Australian artist is celebrated as the SALA Feature Artist. 
This artist's work features on the SALA poster and printed program, and will be exhibited during the SALA Festival. 
The selection of this artist is tied to the outcome of the South Australian Living Artist Publication – the successful recipient becomes the SALA Feature Artist. The publication is produced by Wakefield Press and is intended to profile the work of an established South Australian visual artist with a track record of achievement in their area of practice. Applications for this opportunity are facilitated by the Department of Premier and Cabinet.
The 2022 SALA Feature Artist has been announced: We welcome Mark Valenzuela as the next Feature Artist!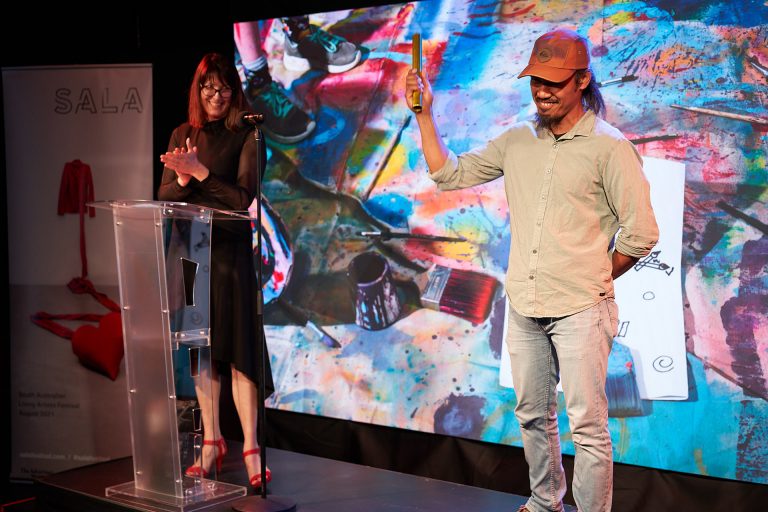 See below for interviews with Mark Valenzuela and resources around his practice.
Check back later to find out where you can see Mark's work during SALA Festival 2022.
The 2021 SALA Feature Artist was Roy Ananda.
Ananda is a South Australian visual artist, writer, and educator practicing on Kaurna Country (Tarndanya/Adelaide Plains). His work spans sculpture, installation, drawing, print media, collage, text, sound, video, and performance.
His work celebrates popular culture, play, process, and the very act of making. From sculptures that reference cartoonish conventions (as Untitled, left, reminds us of Bugs Bunny's heart beating out of his chest) and clever annotations, to a large-scale transposition of a Dungeons & Dragons map and process-based works that seem to expand out in front of you; there is something for everyone in Ananda's catalogue.
Archive of our past Feature Artists coming soon!