Every year, an established South Australian artist is celebrated as the SALA Feature Artist. 
This artist's work features on the SALA poster and printed program, and will be exhibited during the SALA Festival. 
The selection of this artist is tied to the outcome of the South Australian Living Artist Publication – the successful recipient becomes the SALA Feature Artist. The publication is produced by Wakefield Press and is intended to profile the work of an established South Australian visual artist with a track record of achievement in their area of practice. Applications for this opportunity are facilitated by the Department of Premier and Cabinet.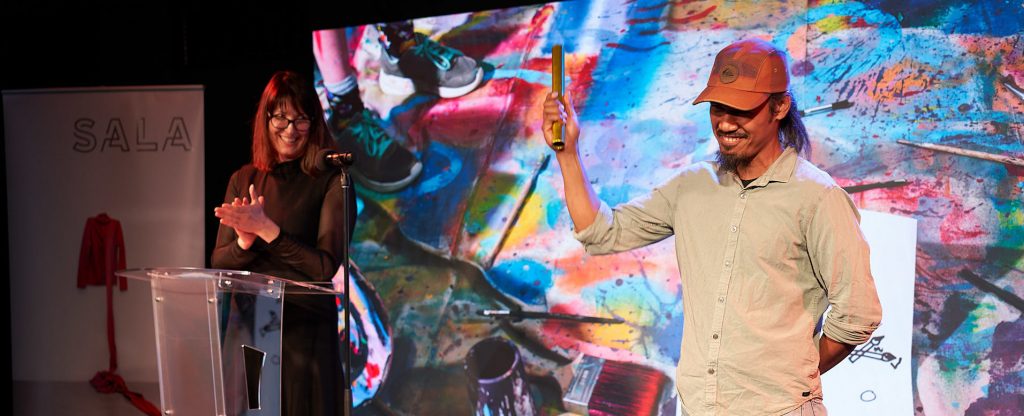 Mark Valenzuela's interdisciplinary practice examines forms of conflict, dominance and resistance, integrating personal conflicts and concerns with the broader socio-political contexts of his home country of the Philippines and adopted country of Australia. Combining ceramics, drawing, painting, and video, Valenzuela's installations utilise a vernacular of repetition, mutation and reconfiguration to interrogate power and stratagems for its disruption.
Valenzuela's explorations of conflict and resistance are informed by his experiences growing up in army base camps throughout Mindanao, Philippines. This background is most explicitly referenced in his early solo exhibitions, Warzone (2007) and Platoon of Strangers (2009), where notions of military discipline and conformity are used to explore the points of tension between the individual and the collective. Valenzuela's use of repetitive forms and imagery draws upon the daily military formations that fascinated him as a child, yet the overall appearance of cohesion is undermined by a pervading sense of anxiety and distrust.
Subsequent works have continued to consider individual agency within broader structures of dominance. The displacement experienced by Valenzuela after migrating from the Philippines to Australia in 2012 propelled him to examine the role of dominant cultural and historical narratives in facilitating both belonging and exclusion. In Terraforming (2015) Valenzuela references Philippine and Australian history to explore the devastating effects of the colonial impulse to 'terraform', while simultaneously examining his own survival instinct to recreate rather than assimilate. Both contexts suggest the need to push against dominant forces.
Other major works, including Mythopoeic Inventions (2014) and Blindspot (2015), interrogate dominant historical narratives and offer alternative perspectives through the concept of cultural mythmaking. New Folk Heroes (2016) and Violently (2017) respond to the current political climate in the Philippines, focussing on the roles of machismo and fanaticism in generating violence and gaining dominance.
While Valenzuela's early works incorporate drawing, painting and ceramics as discrete yet interrelated elements, these three core disciplines have become increasingly integrated throughout his practice. The integration of media within each object, and the interaction between individual objects within an installation, reflects the conceptual layering and cross-referencing present in his works. Historical and contemporary references, recognisable and obscure, are appropriated, intertwined and re-configured to question normative beliefs, destabilise structures of dominance, and propose new perspectives.
[source]
Click on the thumbnails to visit each resource or article.
Banner image: Roy Ananda (2021 SALA Feature Artist) hands a baton to Mark Valenzuela at the SALA Finissage event in 2021, photo Sam Roberts