The SALA Podcast aims to engage South Australian visual artists and arts industry professionals in interviews about their arts practice and creative lives, and in discussion about topics relevant to the arts. The SALA Podcast is available wherever you get your podcasts. 
See below for the latest episodes and accompanying show notes, images and transcripts.
Episode 14: Interview: 100 Barossa Artists
In this episode, Steph caught up with Renee de Saxe, Kirsty Kingsley, and Rebecca Reynolds, who are the driving force behind the 100 Barossa Artists project that took place in SALA 2020. Tune in to hear about how they managed to put on such a big project, the importance of the 'clubhouse' in art, and what they're planning to do next.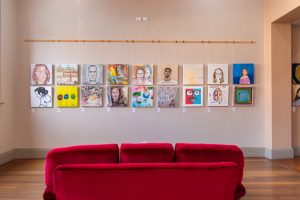 100 Barossa Artists at She Is pop-up Gallery (2020)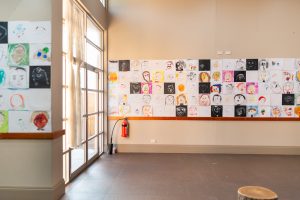 Future Artists in the back room of She Is pop-up Gallery (2020)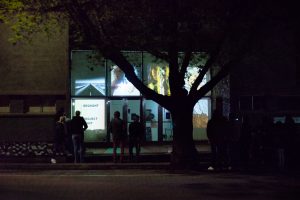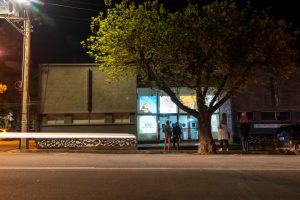 Portraits projected onto the front of the Barossa Regional Gallery (2020)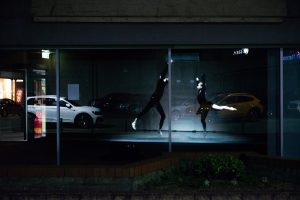 Dance projection in the main street of Tanunda by Joe Cornish (2020)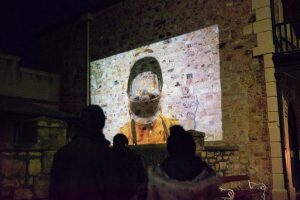 Projection in the main street of Tanunda by Joel Zimmerman (2020)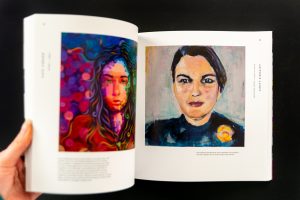 100 Barossa Artists book
Episode 13: Indigenous Cultural and Intellectual Property
In this episode, Steph talks to Charisma Cubillo, a solicitor at Terri Janke and Company, about Indigenous Cultural and Intellectual Property (ICIP).
music: 'Pinky' by Blue Dot Sessions on freemusicarchive.org
image: Charisma Cubillo, photo by Jamie James, artwork: Bibi Barba, Terri – Butterfly Flowers Dreaming, 2020
Episode 12: Curator Interview: Steph Cibich
In this episode, Steph Fuller chats to Steph Cibich about her practice as an independent curator, and what it was like to win the City of Onkaparinga Contemporary Curator Award as part of the 2019 SALA Festival. Tune in to hear about how Steph found her way to this role and how she curated an exhibition in the midst of a pandemic.
Episode 11: Artist Interview: Jenna Pippett
In this episode, Steph asks artist Jenna Pippett about her practice and her new exhibition 'From Czechoslovakia with Love' at Post Office Projects. Jenna's work explores at her maternal family history through moving image, photography, installation and performance. Tune in to this episode to hear about the incredible discovery that inspired her exhibition, and how she makes very personal subject matter accessible through humour.
Steph
Jenna Pippett! Thank you for finding the time to talk with me today.
Jenna
That's ok, thanks for having me Steph – long time fan.
Steph
I'll get to your recent opening in a minute but first I just want to find out about what makes you tick as an artist. Could you just speak generally for a moment about your arts practice and what that is?
Jenna
Yeah. So my arts practice kind of examines my own personal family history, personal family history rather, specifically concerned with looking at my maternal side. So my grandparents and mother moved to Australia in the late 60s and I'm interested in looking at the events that led to that and memories surrounding their emigration and relatives that remain and yeah kind of examining those memories and connecting with that culture
Steph
And what kind of media do you work in when you're doing that?
Jenna
So often the outcomes are photographic or video, sometimes it can range from like documenting a performance or perhaps a live performance.
Yeah I guess the media that I work in is dictated by a lot of the evidence or original source material that I find, and yeah the best way of interpreting that is to kind of honour that medium and um, working with that to explore those outcomes. But yeah often they involve mt own participation and the participation of family members. Yeah.
Steph
Cool, so the choice of medium is really driven by what you're really inquiring about.
Maybe we'll jump into talking about your show that's just opened?
Jenna
Yeah, so the show at Post Office Projects, which is the inaugural exhibition of the space which I'm very honoured to have been asked to open the space. The research that kind of inspired this show which is called 'From Czechoslovakia with Love', was about 18 months ago I got my hands on some documentation from the Czech Secret Police. So my grandparents and mum fled then Czechoslovakia in the late 60s because of communism and Prague Spring. And at that time, people were being surveilled by the secret police, which could be you know, your neighbour, anyone who's you know reporting on anyone. It was a time of great unrest for my family and they felt they had to leave. And they left under the guise of going on a holiday. So they packed up their things, pretending that they were off to Austria for four days, but really they didn't tell anyone that they were leaving, then left the country and Australia were accepting immigrants, migrants, people seeking refuge; and so they hopped on a plane and made a kind of split decision – it was Canada or Australia – and ended up in Australia, ended up in Adelaide, ended up in Kaurna Country. So the documentation that I found – to loop back – was the secret police documents, the surveillance documents on my family. So there's a, um, I'll have to search for the name for this.. I can't think of it off the top of my head. . I think it's the Study [of Totalitarian] Regimes.
But yeah so the information has been made accessible to I guess victims who have been unfairly surveilled by Czech government agency, which was founded in 2007, and their purpose or aim is to repatriate that information to people so you can apply to have a record of these documents sent to you. And I did that, and got this 90-page document that included photos of my grandparents, and a lot of their personal details, and interviews from family members and employers that spoke about why they left and if they knew why they left, and distribution of assets and all that kind of stuff.
'criminal proceedings': my grandma was quite shocked to see that word attached to her name as she's a very proud law-abiding woman and yeah obviously it was a very different time.
Steph
Wow, what an amazing way to research that work.
Jenna
Yeah definitely,. I've always been fascinated with family history and history in general, my dad is a history teacher, so maybe it's something that I've kind of grown up with. But also you know, my mum being born in a different country, I've certainly felt that yearning to understand a greater picture and situating myself within a cultural identity and understanding.
Steph
And is the work, when you make work like this, is it motivated more by what you get out of the process of making rather than the outcome? Or where does that sort of line sit between the experience for you and the experience for the audience.

Jenna
Mm I think that, as artists, we all should and primarily do, make work for yourself first.
Because you're the one that goes through those processes and has that exploration and research and knowledge gain but, you know, there's certainly an element of considering how other people are going to interact with the work and view the work but I'm selfish just like all the other artists and you know, fascinated by those processes and learning new things in my making process.
Steph
And having just had a little preview of the current show, I think it is a blurred line because your very authentic endeavour to find out more does feel very generous (as an opposite word) to me as a viewer that I get a peek into your world and your history so it's interesting isn't it that it all rounds out in that way.
Jenna
Oh thanks Steph. Yeah definitely I think that as humans we're fascinated as to where we've come from and so perhaps my research might make people reflect on their own history. We're only I guess in the modern world and.
What we ate last week, people might post that on social media but two generations back you might not know the name of a grandparent. I think it's an interesting, rich area, and we can all get so much out of researching where we've come from and how that informs out identity.
Steph
Absolutely.
[music interlude]
Steph
And so, you've talked about this document as being a bit of a jumping off point for this show, I imagine that's a pretty unique way to find this information and do that research, have your previous works come from more of an oral retelling and sort of relying on family and memory to inspire the works? Where does that sit?
Jenna
Yeah definitely. I think you definitely get to a point where you are researching family history and you just come up with names and censuses and there's only so much that was recorded back in the day. So a lot of what I make work in relation to is anecdotes, memories; it's also kind of bridging a gap. So you might have an image and some video documentation that were taken from the same day and so you kind of fill in those gaps and try and position yourself within that context, but for this it was quite different because, coming across this new information and so much of it was really exciting and I imagine it will be fuel for future works definitely. But the work that is exhibited at Post Office Projects doesn't literally kind of translate any of that information found, it's more about the way that the information has been made accessible and given back to people who have been surveilled. I see it as like a shift in power. So I've exhibited 8 poster works, there's a video work, and I guess kind of an installation as well. And the poster works all take cues from communist-era propaganda, so there's lots of flags and strength and power and I've hung everything a little bit higher than normal to make it have a big presence in the space. It's a gorgeous space as well with beautiful high ceilings as well so that helps and there's a big black curtain as you walk in and I think drama is definitely dialled up to 11. But yeah, so the text on the posters is all Czech, my family's native tongue. However, I've inserted my own image in place of the people originally depicted on the posters and the text is actually quite intimate and personal phrases/sayings/instructions that my grandparents have said to me and my brother growing up. So there's that shift of very public instruction from government and positions of power and how to direct the community, but the phrases that I've included are like 'why won't you eat the cake' (which is the image that's been circulated for a lot of promotion of the show); there's one that basically just depicts the only animal words that I know in Czech, it says like 'animals: cat, dog, lamb, frog,' so it's more of an interaction on the Czech words that I'm familiar with, that I've grown up with, that run parallel with my English language abilities. I certainly don't speak the language and I would love to be able to speak the language; I've attempted to learn a few times but I think I need to seek a more structured learning environment. But yeah, they're quite intimate, personal sayings, and when someone says 'oh, do you speak the language?' I might know 'hello' and 'how are you?' and I know silly little phrases that my brother and I picked up like 'wipe your bum' and I know how to say 'toilet' and a couple of swear words but they don't feature in the show.
Steph
-or this podcast.
13:00 [short musical interlude]
Steph
And we were just chatting downstairs about the video work, can you talk a bit more about how that came together?
Jenna
Yeah so the video work, it's a 5 minute piece, and the first minute is kind of a close-up of my grandmother, her hands in her kitchen making schnitzel which is a food that brings me a lot of comfort and takes me back to growing up and I still have that real sensorial reaction to those smells and tastes and it's slowed down and put to the music of the Czech national anthem which is quite a punchy little minute. It was originally a longer national anthem but when the Czech Republic and Slovakia split, they also split the national anthem which I find to just be a fantastic story.
Steph
It's so literal!
Jenna
Yeah! 'You get this, we get this', 'you get the kids on weekends!'
So it's this beautiful poem that describes the land and the visual qualities and also this big sense of pride. I first came across the song when my grandma thought it would be fitting to play and my grandfather's funeral and she was like when it played on the loop soundtrack 'oh we should stand up' and just kind of realising that real pride that my grandma has for her country and has for her current country of residence and since then I couldn't stop thinking about this song and putting it to very domestic visuals of her taking care in preparing a meal for her family and the very tactile qualities of chicken breast and hands and flour and egg, then there's a nice 4 minute ASMR sizzle of the schnitzels cooking and definitely don't visit the show on an empty stomach.
Steph
Yes I can definitely vouch for the ASMR qualities being real. It's a very nice – I don't want to say juxtaposition 'cause that's so cliché' but it's so nice to have the very public anthem but then to have that kind of relent and just have those very, those sizzling sounds and you really get drawn into the intimacy of that moment. I never thought I'd describe chicken schnitzels as intimate but there you go.
Jenna
They can be! Yeah the play on public and private. Like a very public national anthem very public messages and very private intimate messages
Steph
It is very lovely. And I'm glad that Ba-
Jenna
-Babi-
Steph
dressed up in her nice frock as well
Jenna
Yeah she's put on her best outfit just to view her sleeves
Steph
Well I appreciated it
And on that note, it looks like you do feature your family members quite a lot in your work. Sounds like you're quite comfortable in being so visible in your explorations of your history and heritage. How do they feel about being involved?
Jenna
They are willing participants. My grandma comes from a very different world and she is more than happy to – she'll do anything she can to help family members and to assist in my interesting projects. But I don't think she quite grasps the projects but she's more than happy to help out and I think she understands that a lot of my practice focuses on care and understanding – which, you know, is something that she can communicate. But she's always like 'oh Jenna, nobody wants to see me'. And maybe they do!
Steph
Au contraire!
17:15 [musical interlude]
Steph
And I've just realised that I don't know much about how you got to this point and your journey as an artist – can you take us back a little bit to how you got to where you are?
Jenna
Yeah so I graduated art school, I went to Adelaide Central School of Art in 2012. Completed my honours and absolutely loved the artschool environment, it's such a nurturing place and really helped connect me with my future peers but yeah after that I've been heavily involved in arts community, and started up a studio with a fellow graduate Kate Kurucz that ran for 3 years in the city which was so wonderful and also joined as a co-director at FELTspace, an Artist-Run Initiative. I also work at Hugo Michell Gallery and can only advocate for working in the arts as a wonderful way to being connected with the Adelaide art community in a variety of ways as well as obviously being a practicing artist. It's a thriving community and supportive if you want to throw yourself in there and get involved.
Steph
So you're everywhere?
Jenna
Not quite
18:50 [music]
Steph
Sounds like you've been involved with a lot of Artist-Run Groups I take it that that has been really important to the development of your practice and so forth?
Jenna
Yeah definitely. I can only encourage people, you know, emerging, budding artists to get involved with the community. And volunteering for spaces; potentially being a co-director of an Artist-Run Initiative really gives you additional insight behind the fourth wall and fascinating industry experience, you meet so many people and it's a great way to connect with your community. I know that Artist-Run Initiatives are always seeking volunteers, whether it be to sit the space / keep it open. Even just being able to spend additional time with an artist's work is invaluable and something that I can only urge people to do.
Steph
And is Post Office Projects an ARI?
Jenna
No I believe that Eleanor calls it a CRI, like C-R-I, a Curator-Run Initiative. Trademark, copyright, all that kinda stuff. But so Eleanor is the director and she has a board but she also has a team of curators who help manage and run the space, which is a fantastic counterpoint; she's got lots of connections to emerging curators in Adelaide and a fantastic opportunity for artists who are involved with the studios here or the exhibition program to be able to access those minds and make new connections and who knows what the future holds.
I'm really excited to see what's in store
Jenna
Me too
20:45 [music]
Jenna
This is the first solo show I've had in Adelaide in a long time, like I've done lots of ARI's interstate, but it's really different exhibiting in your hometown. It's a different kind of pressure as well. Like 'mum, please come!'
Steph
Wait so, first solo here?
It's my first solo in Adelaide in a while – I had a little solo, my first show was at ARTPOD because I won an award from Helpmann grad show (City of Adelaide Award), and then I showed at FELT, then at ACE across space when it was briefly there for a year. It's my biggest solo, floor plan wise
Steph
And ceiling height wise?
Jenna
Yeah totally – the square meterage is off the charts.
21:45 [music]
Steph
Do you have a favourite memory of audience interaction with your work or a bit of feedback?
Jenna
I think every artist feels nervous putting their work out to audiences which is maybe a good thing because it shows that you've really considered the ideas and you hope that people respond to it. But I get all kinds of different reactions to my work. I think often my work sits within a like nostalgia, relate your own experiences so I've had people get quite emotional as a response to my work because it makes them reflect on you know, their own relationships, particularly maternal relationships, because that's a lot of what I look at. But my work also (well I hope) has a bit of humour in it and I want people to be able to access it through a humorous connection. I'm open to all reactions, and not all the work that I make is supposed to be funny but I think that humour is a good entryway into understanding and letting your guard down and being able to connect with something on maybe a more personal level. I'm open to all reactions as long as someone doesn't take offense to what I make.
Steph
How could anyone take offense when you're feeding people at your shows as well!
Jenna
Yes I have made works in which I have had performative elements. It was a couple of years ago now at Holy Rollers Studio, for SALA – oh wow great cross-promo – yeah I made this work which was called Beranek which is lamb, and is a little lamb cake, and I found this mould, a cake tin mould of a lamb at my grandmother's house. and I realised we used to have this lamb cake at Easter time, and that my grandpa used to bake the lamb cake. And at the time he had been living in a nursing home, needing some more assistance.
And so the video piece which I made for the show I had baked the lamb and then taken it to the nursing home and shared the lamb cake with my grandparents. It was certainly a very genuine way to connect with him and his dementia. Taste and smell are really strong memories and sometimes he wouldn't quite able to realise if it was me or my mother and those blurred memories but in the performance piece I made a number of different lamb cakes which I shared with the arts community. Food is certainly a way in which many cultures are able to express love and care and a genuine connection to people. It was nice, I made a lot of cakes, had a pretty weird looking freezer in the lead up to that performance. But yeah, it was a really great exhibition and a fantastic performance night. It's something that should happen more, and great to see those performative practices come together and activate a space.
Steph
On that note, I want to get back downstairs and have another look at the show and I encourage everyone to come and have a look. What are the opening hours? I've put you on the spot
Jenna
The opening days are Wednesday to Saturday, certainly check the Post Office Projects website for times. I know that there are a couple of public holidays coming up… Easter.
Steph
Oh yes, that old chestnut
Jenna
Get yourself some lamb cake!
Steph
Brilliant, alright, well I hope everyone gets a chance to come and see.
Thankyou Jenna, and see you around the place
Jenna
Thanks for having me Steph
[music]
Episode 10: Artist Interview: Jingwei Bu
In this episode, Steph visits multidisciplinary visual artist Jingwei Bu at her home to talk about her arts practice, and the work in her exhibition 'Life Maps' at The Mill. Bu's work spans drawing, painting, sculpture, photography, installation and performance, but revolves around key concerns: the pencil, line as performance, and connection.
Steph
Hello and welcome to the SALA Podcast.
My name is Steph, and for this episode, I paid a visit to visual artist Jingwei Bu to talk about her multidisciplinary practice. Jingwei's visual art journey started in her birth-country of China, where she learned to draw with charcoal. Her natural curiosity pushed her to seek deeper meaning beyond the craftsmanship of drawing, and today she works across drawing, painting, sculpture, photography, installation and performance as means to express her ideas and experiences.
This interview was recorded at Jingwei's home on Kaurna Land, and I want to acknowledge the Kaurna People as the Traditional Custodians of that land, and pay my respects to Elders past, present and emerging. As you listen to Jingwei share her experiences of her own culture, I invite you to be mindful of the culture and traditions that have been witnessed and nurtured by the land of the Adelaide Plains, and are of continuing significance today.
[Music – Komiku]
Steph
Thanks Jingwei for meeting with me today. We've just had a lovely tea ceremony at your lovely house and I've had a peek in your studio – I know you said it's a mess but I thought it was quite a little insight into your mind as an artist. How would you describe your arts practice.
Jingwei
Yes absolutely. First of all I have to thank you so much for this opportunity to talk about my art journey. I would say I'm still on the way learning. But what the good thing is – I feel like I'm starting to feel where is the track and the pathway. That recently I have done a lot of performance, art performance as you have noticed probably. And actually when I reflect on what I have been doing the last years, I have done a lot of performance already. As my buddies from art school -I'm still learning in the Adelaide Central School of Art, and this year I'm doing my third year. A lot of my classmates and my lovely tutors [are] very supportive- they honestly pointed somehow in quite a few units that I've been doing (sculpture, CSP [means contemporary studio practice] and even drawing or painting), they somehow mentioned that 'Jingwei you are quite strong with performance art'. I think it's true, that actually I had a few years of stage-play performance experience back to university time, that I, with a couple of friends made a few interesting stage-plays, we wrote our own script, and directed, and played leading roles, which was actually quite successful.
Steph
I didn't know you had that sort of theatre background
Jingwei
Yeah that was quite [a] long time ago and actually I miss that feeling, that I become someone else and telling stories of not only theirs in the same time and through their story I'm expressing myself too. And I do feel that whenever I step onto the stage: it's my time.
Steph
Yeah, and actually on that note of expression, I saw on your website that I mean obviously yes you've touched on that you have a plethora of different media that you work in… but something that stood out to me was the way that you put that 'art is another one of the languages that you know'. So you can speak multiple languages and art; you sort of framed it that that's just another one, another extension of your self-expression, and I found that quite beautiful actually.
Jingwei
Yeah I do feel, I mean since actually only this year, I started to feel confident about speaking with art. That's because for the past almost 20 years I've been migrated from here to there into different culture I try to fit in, try to learn try to cope, that's a very difficult journey that makes me feeling getting lost. Not only about identity, it's also about the value of myself, within the society. Because I've been constantly changing country to leave. And every time I move I feel like a plant is pulled out from the soil, and you only just have a little bit [of] root developing, and the soil and become a little bit solid and get the nutritions for the body, for the soul, for everything; and then I have to pack up and move and starting from scratch to learn where to shop, where is the supermarket and how to drive in this country – the other country you drive on the other side, in Australia you drive along the left-hand side – all of these things are so challenging.
In terms of languages: none of the languages [that] I got to know, including my mother tongue Chinese, later on English and German, I would admit that none of them are fluent enough to me because I constantly change and then also I'm learning – still on the way. But art is different. Whichever next station I would go, moving to another country, [where] I couldn't speak their language, but art is following me. That I can present my art and people see it and through what I make, they understand.
Steph
and connect.
Jingwei
Yeah, and connect with me.
Steph
That's so beautiful
Jingwei
Thank you
[Music – komiko]
Steph
Now you've got an exhibition that's just opened at the Mill called 'Life Maps', can you talk a bit about that work and that exhibition.
Jingwei
Yes, yes; it's quite exciting. This work, I started to do it since 2016 I would say. Even though before that I was just preoccupied with lines, lineworks, I've been playing with lines in all sorts of different ways. Like I draw hair, I draw how the hair forms into shapes and figures and even could tell a fairytale and developed a body of work called 'hairy tale'
And then the lines goes to the Life Maps because I had a project in my art school, it's about durational movements, you can do everything for a long time. And I picked a pencil, I just started to draw. I liked the feeling of using the pencil and you know touching the surface of the paper and the subtlety of the lines, the thickness of it and the textures, and I was keeping doing this kind of durational movements – or [as] I call it later: performance- for five years already. And I do feel it's like somehow performance because I imagine the paper is the stage.
I've been eagerly searching space since twenty years when I, you know, moving around I didn't have the opportunity to meet people who can offer me a stage to keep my dream, my passion about stage play. And suddenly I feel like 'oh wow; the paper is my stage', I can just imagine the shapes, forms and dots, numbers; lines are dancing, you know, doing all sorts of movements and even telling story and somehow can scream; can cry; can laugh. And they sometimes fight against each other, overlapping, they cover up each other and sometimes they support each other and build up a new shape. Oh I just enjoy it. It's just infinite, infinite stage.
Steph
Yeah that's really great to get that context because we go and we, as the audience go and see the finished work on the paper but to have that context of that actually as the paper as a stage where something has played out and a performance has happened is really insightful and interesting.
Jingwei
I do appreciate a couple of mentors from my art school and my graduate buddies they picked it up this word about performance and also Adele, the art curator from the Mill. During the first meeting with her she pick it up about the performative quality of the lines and the whole drawing movements. And that give me more confidence about [it], also reflect about the whole practice, it does, it does have very strong performative qualities of it.
Steph
Yeah it's really interesting the way that sometimes we need someone else to point out those things that, even though it's your practice and you know it so well, that sort of outside perspective. We were also talking a little bit earlier about how nice it is to have a bit of time between some of your old works and then look at them with fresh eyes, and you've got your new website so that's something that you've been able to do?
Jingwei
Yes absolutely, I did benefit from reflecting my old works, from the previous 10 years, or even 25 years. Because I start my art journey very early, even I didn't that it's art. It's only about, it was making; it was craftsmanship. I learned from the craftsman/master teacher to draw portraiture using charcoal powder. I was only teenage at the time, something like 16, 17. I enjoyed the focusedness of observing the texture of the skin and hair and clothes that people wear. And I was sitting there for a couple of hours until midnight to draw one portrait until my parents reminded me "go into bed, it's too late". Many times when they'd wake up they'd realise there is light still in my room. I was focusing on doing that, I enjoyed it, but after many portraiture I've done for my neighbours, classmates, relatives, I started to feel like, tired about it. I thought 'is that what it is? Can I do something else?' So I didn't think about art, what is art? I didn't know that. Until recently I reflected all these things and I organised my website. I had my website two years ago for my Life Maps things only; I didn't put everything on it, and until recently I think: 'I have to sit down and reflect' in order to being prepared for my third year, because third year is about creating something new. Or you talk about new, but it's built up on top of what your previous practice. So I have to know what I , what have I been done?
Steph
What you have done?
Jingwei
What I have done.
So I suddenly realised oh my god I have done so much and all sorts of things. And then, the best thing through, you know, spending the efforts organising all this onto website, is that I found the connection. Among all these different areas I have touched: drawing, painting, performance, installation, even sculpture, and you know I found actually, I wasn't really jumping around with ideas, I was actually following something. There is one thing I have been following is something from my heart; from the instinct, from the bottom of my heart. Whatever I'm doing is from the wish and the hope or the need that I want to express myself. Currently, I need to talk about my journey, reflecting on my life, you know, the strugglings, as in migration, or as an art student, art learner, and the confusing about life, about art, etc. Or about the current issue happening around in the community or society. For example, the bushfire at the end of 2019, I was frustrated, you know, for my kids, for my kids' future, for the animals (I love animals) and I was tearing all the time, I was stressed, I was depressed by the future of us, everyone. And I was worrying that the bushfire would burn the city eventually. So then suddenly I go very grateful I got the space offered by Dare Hair, they had an empty space beside their shop and I used that space to throw all the concerns out through making a site-specific installation. Using my previous sculptures of a couple of panels of plaster sculpture using the collections of my rubbish, and applied my previous ideas of using the plastic bag (transparent ones) and to wrap the mannequins as dressed figure is a metaphor of ourself. That's just really from my concern that we're only focusing on developing and consuming then and that we'll just become like them – we don't have a soul anymore.
Steph
Yeah that's quite a yes, ever-relevant but particularly after we've been through those bushfires
Jingwei
I do have to mention on thing that I particularly have the impression of the temperature, at the time it was 42 that day
Steph
And you were performing in that space?
Jingwei
Yes as you imagine then my face looked so red, because the room doesn't have air conditioning, no fans, I had to shut all the doors and windows to have the quietness of create a serenity space for praying. I put all my concern and wish and pray into that continuous movements of changing, changing the materials on the site. It's hot; it's suffering. But I feel like I'm sharing the suffer with animals, or the plants or the bushfire. Anyone who has been suffering in the bushfire. I feel like if I couldn't go there to save you, I'm with you; I'm with you; I'm with you.
Steph
So a bit of an act of solidarity with that suffering.
[music – Komiku]
Steph
Now I've read that there's a performance with the Life Maps exhibition at the Mill, is that yet to happen?
Jingwei
Exactly it is happening in two days. On this coming Sunday, 1-3 o'clock in the afternoon, it's an opening event organised by the lovely team from the Mill. Very supportive. It's a very special performance, it means a lot to me because it's about the loss of my mum two years ago. It's exactly the same time, it's February and March
Steph
The anniversary?
Jingwei
Two years. So two years ago she spent two months in the ICU. How do you say it?
Steph
Intensive care unit
Jingwei
Intensive care unit in the hospital here in Adelaide, February and March.
So it is coincident…?
Steph
It coincides…
Jingwei
It is coincide that my solo exhibition Life Maps just happened in this month
Steph
oh – that is a coincidence
Jingwei
Coincidence. Yeah, so I talked to the team in the Mill that I want to perform for the… not mourning any more – I think I'm over it. And also because my mum is Buddhist, and I have been learning and study Buddhism too. And mum had a very beautiful Buddhist chanting ceremony in ICU she was staying there for two months, every day the nurses and doctors would play the Buddhist chanting for her. Ending up, the whole ICU team started to google 'Buddhist chanting ceremony' etc. Yeah, I really appreciate that, and they allowed us to invite -very quietly- a couple of Buddhist friends chanting with me,
Steph
In the hospital?
Jingwei
In the hospital. 36 hours before the point of mum passing, and 24 hours after.
Steph
Oh wow.
Jingwei
36 hours because they realised that mum can't be back, they called me 'Jingwei you have to come, any time mum can be gone' so I then drive to there, stay there, beside my mum for 56 hours that's why I said I have to perform this. This one is brewing for two years already. I just desperately want to express this – for my mum, and for the ICU team, for everyone who has been with me to support me in that terrible time of losing my mum. For the performance I will start with rope to form a sculptural 3 dimensional Life Maps on the floor, with the projection of the numbers in the ICU from the monitors.
Steph
Right so you actually were taking that in in that time noticing those numbers and I guess monitoring…
Jingwei
Yes, I took the photos of the screens because I wanted to compare if my mum [was] getting better. I don't have the medical background, it's very hard to understand the medical language, so from the numbers it's very easy to compare – why this number is getting so much different from yesterday, yesterday was 89 why today is [it] 130. So there must be something wrong. So every day I just took pictures and compared with the previous one so I accumulated a lot. But these numbers hid in my camera roll in an album that I dare not to open it and look. Yeah, until recently that I think I'm over it and I use numbers into one of the art projects in the art school and I started to really really be strong to face it. Because I use a lot of numbers in my life and my drawings and I think why not, I use all these numbers into this performance and then I'm completely healed from this, I can face it when I can print them out and pin it on the wall to share with my peers, with other artists and turn it into art I'm over it and also I'm stronger and I definitely see life journey differently.
So yeah come back to the performance. After forming the 3d sculpture Life Maps,
Steph
Was that rope did you say?
Jingwei
Yes rope, 20 metres long rope
Steph
So a silhouette, a sort of shape on the ground?
Jingwei
That's right. The rope somehow is the extension of my life, my mum's life, also is actually: it's the pencil, if I say is the extension about the performative drawing on paper. Now this is the pencil to draw the line.
Steph
Yes, it all comes back to line.
Jingwei
Sure, it remembers the same consistency in terms of the art forms. But after this would kickstart another durational performance, 56 hours, which is the time I was with my mum. And I will perform in the space, on the opening events, and I would invite the audience [to] walk around and do their own viewing and chatting while I was just quietly going to perform just in the site. Also for the whole exhibition period time, I will perform this everywhere I go. Possibly in my school, in my studio, in my home, on the street, in my park while I walk my puppy Milo. When there is chance, I will perform it and accumulate it into 56 hours
Steph
Wow so it's not just in the gallery; it's spilling into the rest of your life.
I definitely get that impression that you're never not an artist, you never switch off, you are always thinking as an artist and experiencing the world as an artist. I have had the pleasure of knowing Jingwei before our meeting today and yes that's the one thing that comes across the strongest, it's a way that you see, interpret and experience is through that creative lens.
Jingwei
Yeah I do feel like every minute I'm making art I'm creating, I'm writing, or performing or even in the kitchen when I see the food and utensils I turn them into art. I do feel like I live in art. Thank you for picking it up, that's a beautiful sentence to think of. And I appreciate people around me started to realise that art is my language even though I've been struggling with my language in my school. Ah I can't believe now I can speak so much and I can ask you questions and I feel like I'm happy with my speed of my language I used to, I spoke very quickly because I desperately wanted to express my feelings but vocabulary and grammar were not adequate and I used a lot of facial expressions, hands, and body movements. And I don't like it, I hate that. And if I speak my mother-tongue I wasn't like that; a much quieter speaker somehow… probably.

Steph
We've spoken about the Life Maps as the performance, can you speak a little bit more about the – because it's quite a long time that you spend with each of those works, and like you said it's almost that the paper is a stage and that little journey plays out on that paper. Can you speak a little bit to how we might interpret the icons and the lines and the numbers on those life maps and what they can represent?
Jingwei
Yes absolutely, I would love to share with this experience. It's a long journey for me to brew it and to really consider it as my, not everyday practice, but whenever I need it. I do feel like I have to feel to do it then I do it. I used to plan to do it every day, and I did it, I did it for a couple of months that I do a short version of Life Maps in order to get the meditative effects to calm me down have a little peace among this chaotic family life.
But later on I feel like I don't want to block me in, into something, because I feel like the beauty of this body of work is the freedom; intuitive. If I block myself into a ritual it doesn't have the original intention of it. Then I stop [trying] to do it every day, then I start to ask questions, when I have time. I say 'Jingwei do you want to do a Life Map today?' 'Yes I do'. 'And how long do I have to manange before picking up the kids?' or something. Ok, I have one hour and I do one hour. I have ten minutes: I do one ten minutes. I also have to mention that not all result is visually beautiful. Somehow most of time: ugly – visually. I mean, in terms of artistic, visual, aesthetic thing.
I slowly, slowly, accept them. I used to hide them, tear them up, throw them into the bin
Steph
Oh no!
Jingwei
But now I said, of course I don't care, leave it or keep it, or document it – I don't really care because the process is more important that I'm with the lines. I'm with the tip of the pencil and that brings me to the peaceful land. And I have peace and I have a rest and my brain comes to another purified moment. That is beautiful whatever result it is.
And also I have to mention whatever appears in front of you during the exhibition you see the very intense and look like very chaotic textures of the pencil strikes on the paper – it may not mean that I was in struggle. It may mean that I was in peaceful land. Yes that's amazing, that surprised me too that somehow I, when I show you a beautiful lines repetitive of the beautiful short lines you feel the peace in it. Somehow I was doing it with struggle; stress. Anxious sometimes. That I then do the very peaceful steps. I call it mindfulness walking.
Steph
Oh like walking on the paper
Jingwei
Exactly, it's by the monks doing workshop in the Sri Lanka temple,
They have bare feet, they walk in carpark in front of the temple. Just focusing on the steps: left right, left, right, and just follow the very slowness of pace.
So I then develop it onto my paper, I imagine I'm walking. And focusing only on the steps. Focusing only on the left, then right, then left, then right. Then trying to capture the sound of the encounter of my paw…?
Steph
The heel? Bottom of your foot?
Jingwei
The bottom of my foot touching the ground, whatever on the ground, concrete, grass, little rocks, whatever. Feel it sometimes painful, sometimes itchy sometimes oh nasty – some bird poo there. Anyway, so I was doing very short version of these to calm myself down. So actually it's the other way around, when you try to interpret each Life Maps I'm showing at the Mill, what you see is not what I was ..
It's just amazing
Steph 
It is, so we're seeing a process, we're not seeing a product we're seeing that meditative process that you went through. That's so fascinating, and I love that it always comes back to that pencil and that line and the way that you put yourself into that.
Thank you Jingwei, I'm really excited to see the show at the Mill and what else you get up to with your arts practice. It's ever-surprising and yet always coming back to that same core thread. So thank you for that context.
Jingwei
Thank you Steph.
Episode 9: Artists in Schools: Louise Flaherty & Jane Mant
In December 2020, Steph caught up with artist Louise Flaherty and educator Jane Mant to talk about their experience of the Schools Artist in Residence Program, presented by SALA Festival in partnership with Credit Union SA. Louise worked with Jane's students in the wake of the December 2019 Adelaide Hills bushfires, connecting the students to their local landscapes through drawing.
Music: 'Nothing will grow here' by Komiku via freemusicarchive.com
Episode 8: Social engagement and working with communities
This episode takes us back to the 2018 SALA Forum for the second session of the day: Social engagement and working with communities, a panel discussion featuring Daniel Connell, Laura Wills and Paul Gazzola.
Episode 7: The Department of Non-Corporeal Affairs
This episode takes us back to the 2017 SALA Forum for a Q&A session from The Department of Non-Corporeal Affairs. Andrew Purvis and Sasha Grbich take us through what non-corporeal means, and what necessitates a paranormal research office in the City of Adelaide.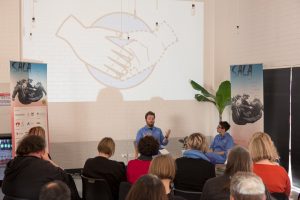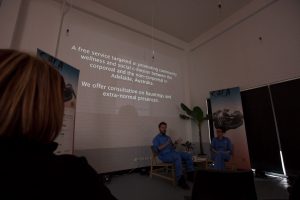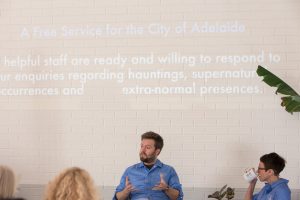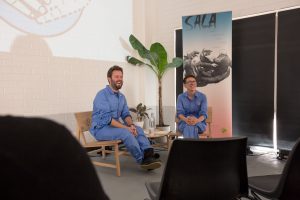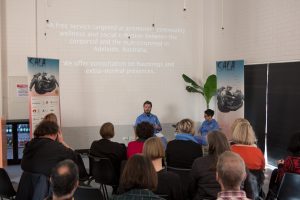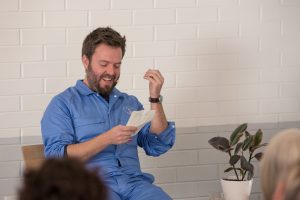 by Sam Roberts
Steph Fuller  0:07 
Hello and welcome to the SALA Podcast. In this episode, we're revisiting a Q&A by the Department of Non-Corporeal Affairs featuring Andrew Purvis and Sasha Grbich. It was recorded by Channel 44 during the 2017 SALA Forum in the ACE Open building in Adelaide, with Andrew and Sasha dressed in skye-blue coveralls presenting to a seated crowd.

Andrew Purvis  0:42
Before we begin, I'd just like to reiterate Chris's remarks before and acknowledge and pay our respects to Aboriginal elders past and present and recognize the fact that we're meeting today on Kaurna land. The Department of Non-Corporeal Affairs is a pretty new department, probably not very many of you know who we are or what we do. We do have a website set up, you can reach us at www.noncorp.com, and we've been getting a few emails through to that website, a few inquiries. So I thought maybe one of the best ways to introduce ourselves and let you know what we do and why we're around is to read out some of those questions that we've been getting over the website, sort of, we can do a bit of a back-and-forth and interview each other. So I should introduce myself: My name's Andrew Purvis, this is Sasha Grbich.

Sasha Grbich  1:34
Okay, well, yeah, thanks, Andrew, and also thanks SALA for letting us come and speak about our department because, like Andrew said, we're a fairly new department, so any chance that we have to get out there and speak to people about what we do is really important for us. So I guess I'll start off with a really simple question, we often get asked: what is non-corporeal? And why do we call ourselves The Department of Non-Corporeal Affairs?

Andrew Purvis  1:58
Sure. Well, at the basic level, thinking about what the word means: I, Sasha, most of you in this room, are corporeal -it's a bit of a mouthful- which means you have a physical reality, it means that you can be touched and touch others. There are members of our community who are non-corporeal, these are people who have no physical presence, how they might manifest is in a range of different ways. You might have come across non-corporeal citizens of Adelaide who are ocular appartitions, or maybe -sorry, I shouldn't discriminate, they might be present in this room right now- maybe you are a smell. Maybe you are a sound, or maybe you are a cold spot. I don't know how you might choose to manifest or maybe there's no choice in the matter. But that's what we mean by non-corporeal.

Sasha Grbich  3:00
Okay, and that's a fairly specific use of language there.

Andrew Purvis  3:03 
Yeah. Yeah. In fact, that was one of the questions that we got over the website. User CarnivosaurusRex, asked: "The department seems very sensitive in its approach to to language, why don't you use terms like dead and departed?"

Sasha Grbich  3:19 
Well, actually, I just, yeah, we don't use the D word, dea- no, don't use it. I think something that becomes clear when we're speaking about the department is that this is all about fostering positive relations with non-corporeal presences. And to put the emphasis on maybe that split second, you know, that probably not a very good moment when they passed away, potentially, you know, that seems like, against our sort of ethos and aims. And so we're much more focused on the previous, you know, 50, 20, 70 hundred years, that that that presence may have had. And also, you know, their ongoing presence as a non-corporeal format, that might be very positive as well. So yeah, we try not to, please try not to…

Andrew Purvis  4:06 
Yeah, we like to believe that it's very possible to live a very full and active life/existence as a non-corporeal entity.

Sasha Grbich  4:15 
So I'm just following on, you know, in terms of who we are what we do, and we had another question from another user online: Swayze'sNotDead. He says "Are you guys like the Ghostbusters?"

Andrew Purvis  4:32 
We get this quite a bit. We're not interested in busting. We don't do any busting. It's not what we're about. It's not more interested in. What we're interested in is really community wellness, about building social cohesion between different community groups between the living and the and the non-comporeal communities in Adelaide. That's what drives us and getting to know and understand members of our community that maybe you don't have much common interaction with, or, you know, even perceive on a day to day basis, I think is very important to us.

Sasha Grbich  5:12 
Do you have a question for me?

Andrew Purvis  5:13 
Yes, I do I keep forgetting that I do. So, I think this question brings us around to the theme of today's talk, which is about the value of the arts. So, User DuckTailSucks89 wants to know "Why are my ratepayer dollars being spent on this crap?

Sasha Grbich  5:43 
And look, it's a fair question. And I think it's at this point that we do need to acknowledge the support of the Adelaide City Council. But, you know, but seriously, I mean, there, there is a very serious side to this. For me, and I think for you, and all those others that were involved in setting up the department, which is to say that we are concerned about, sort of, perhaps you might call it a cultural amnesia, a tendency to forget the past very quickly. And we noticed this in Australia quite a bit. And so we believe that this project, amongst many others, is really important in terms of honoring, remembering, and having a strong relationship with the past. Whether it be, you know, the in the last few years or pre-colonial times. So this, for me, is the importance of the department. And also because I think for too long, we've treated ghosts as scary.

Andrew Purvis  6:43 
Yeah. And I think that's something that we're very much about, is this idea of sucking the spookiness out of this idea of non-corporeal presences; a 'ghost', if you want to use that term, is a person too. Or was.

Sasha Grbich  7:01 
Or a dog.

Andrew Purvis  7:02 
Or a dog, yeah. In fact, we don't entirely know what they were… Yeah, depending on their age, they may be single-celled organisms or something that might go back to the Proterozoic era.

Sasha Grbich  7:12 
I have a question for you Andrew: What services do you offer?

Andrew Purvis  7:18 
As part of the department -and we are supported financially by the Adelaide City Council- so we are providing services for the citizens of Adelaide and the wider community as well. One thing that we can offer is working as an investigation and consulting service. If you have, or suspect you have, a presence in your home or in your workplace: feel free to either contact us through the website or come into the offices, and we offer site visits, and we also conduct investigations working in conjunction with the City of Adelaide's archives department to look into the history of your property, whether that be a home or an office and think about who was there before? What was this land used for before, what was this building used for? And maybe we can narrow that down for you. Maybe we can tell you who lived here before. I mean, if you hear a noise in the middle of the night, and you don't know what it is, that's frightening. I mean, we're all scared of what we don't understand and we don't know. But, if we're able to tell you that 70 years before, a woman named Gladys lived in your house, and Gladys had a job and she had a family and she had children, and were able to tell you that, next time you hear a noise them in the night you say "that's Gladys, that's nothing to be frightened of". It's just like having a housemate; it might be one way of thinking about it. We also are very interested in working as a research hub. So people that want to come into our offices, and just share their experiences, we can write those up and record those experiences. We're really interested in hearing experiences from people from a different culture who have come here. We've already had people come into the office from Hungary and tell us about the spirits they brought with them in coming to Australia. So we're really interested in hearing more about that. Which I think leads us, Sasha, to you know, the idea that if people don't want to come into the office, or they don't have a physical presence and are unable to come into the office, how else can they make contact?

Sasha Grbich  9:34 
It's a really good question. So we also have a website, which is one of the most active sites of interaction I suppose. On that website, we have the ghost registry where you are welcome to submit an experience. If you can't type, if you're non-corporeal there is also a Ouija board in the office you are welcome to contact us on. And as always, one knock for 'yes', two knocks for 'no'.

Andrew Purvis  10:07 
One for 'yes', two for 'no'.

Sasha Grbich  10:11 
So which brings me to an important question. Um, could you tell us a little bit about some of the encounters that have been reported so far, Andrew?

Andrew Purvis  10:18 
Well, as I was mentioning earlier, there's the gentleman from Hungary, who was telling us about the spirits that he bought with him. We've had another person come into the office and tell us in quite long detail about an ear infection that they've been suffering from for quite a long period of time, which apparently is the manifestation of a non-corporeal entity. And we also received a submission over the website just last night, about a spirit that, in the middle of the night, managed to put on a Fleetwood Mac LP on a turntable. It didn't start from the beginning of the track, it started from the center,

Sasha Grbich  10:59 
Early Fleetwood Mac; pre-Rumours

Andrew Purvis  11:00 
Yeah it wasn't Rumours or anything like that
Yeah. From the center of the LP, so there was no scratch marks, nothing.

Sasha Grbich  11:13 
No, gently placed it on, beautiful. Better than I could do.

Andrew Purvis  11:15 
Yeah, I mean, really sort of interesting. And I think that that goes towards also, what we were saying before about understanding the interests and the desires of the non-corporeal citizens of the city, if we can get to know them better. If we know what their musical tastes are, then maybe we can live together a little bit more happily. Yeah so…

Sasha Grbich  11:40 
You know, if you have a question,

Andrew Purvis  11:42 
I've lost thread of who has the questions, was it my turn?

Sasha Grbich  11:46 
Quite possibly

Andrew Purvis  11:50 
So another question we received on the internet was, inquiring whether or not we're in contact with any of the other paranormal researchers or ghost hunters in the city?

Sasha Grbich  11:59 
Oh, absolutely. So of course, if we position ourselves within the council, one of the important things that we can offer is to provide a directory of services and projects. And so we are quite interested, we're also putting in part of the work that we've been doing since setting up the department is documenting and pulling together other projects and practices and businesses are in this area. So you know, and this is probably a great point to acknowledge the wonderful Sera Waters who's been interviewed so far for that aspect of our project with her ghost stories project -and I think I've got the title wrong there- but her work is also in the Artpod, and you can view it there. We're also speaking to paranormal investigators, and it's fair to say that we've been somewhat mentored by Allen Tiller, who is… well you tell us.

Andrew Purvis  12:50 
I think is one of the most preeminent paranormal researchers in South Australia. He runs a haunted Adelaide website, he has also appeared on the Haunting Australia TV show, Allen's approach to ghost hunting is very similar to ours. Allen is also the South Australian emerging historian of the year. And it is his research into hauntings that has earned him that accolade. Allen is very interested in identifying and researching the history of hauntings and understanding where they might come from, what they're about. He is not, as you might have seen on TV, some sort of… some ghost hunters who are very interested in the scientific and the gadgets and the devices… Allen is much more research-oriented.

Sasha Grbich  13:35 
He is, and so he also records ghost voices, which I'm so into. Yes. Okay, so I have a question for you now: If, for example, I had a threatening presence in my house, and they were non-corporeal..

Andrew Purvis  13:51 
If they're corporeal, just call the police.

Sasha Grbich  13:57 
Good start, yeah. Could you help me?

Andrew Purvis  14:00 
Sasha and I are amateur paranormal researchers. We lay that out there, we're very upfront. We're probably not equipped; our skill set is limited, and if there are any hostile or aggressive presences in your home or workplace that are non-corporeal,

Sasha Grbich  14:18 
gallery or studio

Andrew Purvis  14:19 
gallery, studio, whatever it might be; our recommendation would be to contact a professional or to contact a representative of whatever belief system that you subscribe to. So that might be the church or, or many different faiths. I mean, if you're an atheist, I believe you can contact Richard Dawkins, I think he really loves to get emails like that. I think he can be a big, big assistance to you.

Sasha Grbich  14:46 
And look, just sort of finishing off now: we were talking just before about, I mean, we love the SALA Festival, we love it, but we think it's perhaps missed something.

Andrew Purvis  14:47 
Well, we do think in the way it is framed, and the terminology they use, it is a little bit exclusionary. So as we lead up towards the… the department is has a finite lifespan -as do we all- it will be leading towards a closing around October 6, the actual date is yet to be set.

Sasha Grbich  15:18 
You're welcome to come, everybody

Andrew Purvis  15:19 
Yeah. But for our closing event, we are going to be addressing some of the things that SALA perhaps isn't servicing; the parts of the community that aren't being service. So we'll be running the South Australian Dead Artists Festival, and we invite all of you to come along.

Sasha Grbich  15:39 
Thank you. Now look, that concludes, I think all the questions that that we sort of pulled from our website and our experiences so far, but if you have any questions yourselves, you'd like… feel free. Yes. Straight in.

Audience Member  15:52 
How important are the uniforms to the work that you do?

Sasha Grbich  15:55 
Hahaha, so important.

Andrew Purvis  16:00 
I don't think we could do it without it, to be honest

Sasha Grbich  16:06 
I hope that answers your question.

Andrew Purvis  16:09 
I mean, the uniforms are an acknowledgment that we are largely bureaucrats and we provide a social amenity, that's what we're here for. We're not, we're not conducting, we might conduct séances, but we're not sort of like with lit candles and, you know, a skull in the corner or anything like that. We're trying to take the kind of very traditional sense of the Gothic or horror out of the conversation. That's not what we're about. So the uniforms help us do that, and they position us in a certain way.

Sasha Grbich  16:47 
I mean, one member of the team might have suggested that she would only collaborate if she had a uniform also

Andrew Purvis  16:53 
Yeah I recall a conversation like that, yeah.

Audience Member  16:57 
Thank you.

Andrew Purvis  16:59 
Okay, well, thank you very much.
Episode 6: Sundari Carmody
In this episode, Kate interviews artist Sundari Carmody about her practice, which gives sculptural form to unseen phenomena. Carmody is drawn to research in the areas of dark matter, sleep and the study of nocturnal creatures, and in her work considers how to engage with universal systems and aspects of being using materials such as concrete, textiles, mist and neon. See her work at ACE Open as part of If the future is to be worth anything: 2020 South Australian Artist Survey.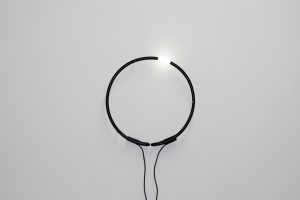 Sundari Carmody, One: all that we can see, 2017, neon light with 95% painted black, electrical components, 40 x 40cm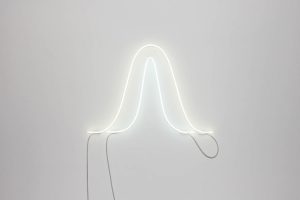 Sundari Carmody, white white (summer and winter solstice), 2017, neon light, electrical components, 70 x 100cm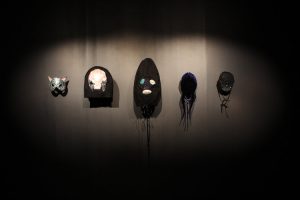 Sundari Carmody, The Build Up – masks, 2014, installation view, CACSA Project Space. Photography by Steve Wilson
Sundari Carmody, The Build Up, 2014, (Volcano) velveteen, poly-fill wadding, calico, steel, tent-poles, felt and sequins, 163 x 520 x 520cm, (House) painted plywood, mdf and steel, dollhouse lights, 130 x 30 x 40cm / Installation view at CACSA Project Space
Kate 0:18
Hello and welcome back to the SALA Podcast. I'm joined today by Sundari Carmody in her studio at ACE Open, which is on Kaurna land. And I'd like to acknowledge that sovereignty was never ceded and pay my respects to Elders past, present and future. Sundari is a sculpture based artist working with diverse materials, including concrete textiles, mist and neon. She also works with video and performance. Her practice concerns itself with the question of how to engage with universal systems and aspects of being which linger in the category of the unknown. Her work explores the subjects of dark matter, sleep, and the study of nocturnal creatures. The scope of her investigations take into account the scientific, cultural, physiological and psychological aspects of the dark, and give form to things that are invisible and just beyond the limits of our perception.
Sundari your work explores the unknown and the enigmatic often drawing on our unconscious relationship with the cosmos, and the universal forces that influence our experience of the world, such as seasonal changes in daylight, gravitational pull and planetary motion. Your practice is steeped with symbolism and is also highly theoretical. And I would say that maybe it's placed somewhere between science and intuition. What percentage of your practice would you say is spent on researching the subject matter, and on the conceptual side of developing the work as opposed to the physical side of making it?
Sundari 2:12
Hmm, interesting that you asked about percentages. That's a difficult one to answer. I haven't actually thought about how much I spend on each. There's probably a lot of researching just because that's what I'm interested in every day, I'm listening to podcasts, or I've ordered a book online about the history of the enlightenment and scientific discovery. And then I'm taking notes as I'm reading, if something sticks out, then I note it down in my book, and then it might feed into an idea eventually, it could be immediately or it could be a few months down the track. So I think it's probably both happening at the same time. I'm developing ideas as I'm listening to things or reading things.
Kate 3:06
And how do you know in that sort of research, in those times, how do you know when you sort of stumbled upon like the kernel of an idea that you want to work with? Or how do you know, when you've struck something that you want to follow that line of inquiry?
Sundari 3:25
To give one example, I was listening to BBC Radio 4 podcast called 'In Our Time', and each episode is about something different. And I listened to a discussion on bird migration, maybe three or four years ago, and the ideas of bird migrate- the theories of bird migration- there's still a lot that is unexplainable. There's, there's a lot of… people don't know where birds learn, to fly to. It just seems to happen. And I was really drawn to that mysterious force that drives these, these birds to travel thousands and thousands of kilometers each year. And I didn't make anything right away with that. But I noted it down and I knew I wanted to do something with it. It's this invisibility in the idea that I was drawn to. And now maybe four years later, I'm, I'm working with with a bird themed sculpture that draws on those migratory patterns.
Kate 4:42
And do you think, you know, sort of looking at how your artwork is sort of investigating this unknown and the sensations that we as people but also you know, the animal kingdom experience and are influenced by but or not easily definable and are often unseeable, those things that are maybe just beyond the limits of perception. Do you think that you use a lot of intuition when you're creating your work?
Sundari 5:15
Quite possibly. I think intuition, it's difficult to measure, if I use it a lot, or a little bit, but there's always a scientific way of depicting something where it's measurable, and repeatable. But this is a more poetic interpretation of a scientific idea that I'm more interested in seeing the poetry or the, the mystery of it, rather than focusing on what is measurable.
Kate 5:53
You work with neon in a number of your sculptures, and in your work called 'One: all that we can see', you refer to a contemporary physicist's hypothesis, that dark matter and dark energy make up 95% of the universe. And normal visible matter makes up only 5%. Coming back to percentages. I love this idea, and I think it really encapsulates that theme that you play with in your work that you were just referring to. Can you talk a little bit about your neon work, that one and the others that you've made, and why you chose that as a medium to express some of those ideas?
Sundari 6:38
The material of neon is really interesting. For that particular work, I used them because the idea and the material, both work together, it is about light. And it made sense to use a material that was illuminating; was light itself. And the circular neon called 'One: all that we can see. It's it's a neon bent into a circle. And it's a white tube, but 95% of it has been blacked out. And so only 5% of it is actually admitting light. And there's all these pie charts online that refer to the idea that everything that we can see in the universe that is visible, that emits light, or that blocks light. So planets, dust, stars, and galaxies. They're visible to us. But there's a whole other world out there that makes up the other 95% that we can't see. So it made this pie chart become an object that was light, and blackness as well. And the other neon light that depicts two neon lines, neon tubes, rather, that are in the shape of lines on the graph that I found that measure the intensity and duration of light on the summer and winter solstice. So they using a light to depict measurements of light. It just kind of came together. In that way when I was thinking about these lines and how to make them a physical object.
Kate 8:28
There's a thread that runs through your work connecting individual experience with the enormity of the universe, and studies of biology and physics, and the forces that rule our universe. Ideas that are both all-encompassing, but also very intimate at the same time, connecting human experience with these giant, cosmological questions. You've suggested that maybe through sleep, or the unconscious or altered states of the mind that some of these big questions might be better understood. Can you talk a little bit about this idea and how that relates to your work?
Sundari 9:10
I think the planetary movements and astronomical events that include the gravitational pull of the earth, the alignment of the planets, all these things seem quite big. And on an individual level, they don't seem to affect us. But then we are deeply affected by the events of the universe and of our solar system. The fact that our Earth revolves around the Sun in a particular pattern, the 24 hour cycle, and a 365 and a half or and a quarter, day orbit, that that is affecting the way we have evolved as humans, but and it also affects our daily rituals, our sleep/wake rhythms… the rhythms of life on this earth are affected by astronomical events. So, I was thinking a lot over the years about sleep, and in the darkness and things that happen in the dark, while at the same time also becoming increasingly interested in astronomy and how this new research and old ideas being revived in astronomy that are being proven or disproven. And these two, these two areas of astronomy and sleep studies or sleep; the experience of the dark. They seem quite disparate, or they seem like they're unrelated, but they're completely related. And it took me some time to really marry those ideas together in a really succinct way. And when I came across the idea of sleep, being an astronomical event, it just, it seemed quite simple. Like, it was so obvious, I don't know why it took me so long to bring those two together. But it is, it does demonstrate to me just how much we are affected by by nature and by what's happening on this ball that we're on the floating in space.
Kate 11:33
I love that idea of sleep as an astronomical event. It really ties that kind of universal with the very personal.
Sundari 11:40
indeed.
Kate 11:41
Have you ever played around with your circadian rhythms, you know, practice different sleep cycles or tried to emulate different sleeping patterns that animals and humans have had over the years?
Sundari 11:53
I think I had a long hangover of my teenage years. I think well into my twenties I was sleeping really really late and waking up really late. I've worked really hard to adjust my sleep patterns and I've read a lot about how to improve my sleep quality as well as my sleep rhythms/cycles. It's really hard for some people. And I've learned that some people… the idea of a night owls and and morning larks. In the book I read, called why we sleep by Dr. Matthew Walker, he refers to the to the night owls and skylarks when he's talking about the studies that they've done on people, people's sleep cycles. And they've put people in bunkers in complete darkness for weeks, I think. And I'm not sure how legal those studies would be now. But he refers to these old studies and they discovered that some people have a naturally 23-hour cycle and some people have a naturally 25-hour cycle. And that's why we have that division of morning larks and night owls. And so it is hard to switch from being one to the other. And I think probably, like most people, I have a very complicated relationship with sleep. I drink too much coffee; I do all these studies and and then I ignore them all.
Kate 13:31
Yeah, I think sleep is something that feels like it comes naturally to most of us -obviously, there are sleep disorders and things- but try to mess with those things, it sounds so much easier in theory like wake when the sun comes up. And you know, it's not always compatible with our lifestyles either. So…
Sundari 13:50
No and Thomas Edison was famously afraid of the dark. And then he invented the light bulb, I'm pretty sure I have the right person. And and just how much that light has affected our sleep. Having light at nighttime when we should be producing higher melatonin levels to get ready for sleep and the light's messing with that.
Kate 14:14
Oh, that is a very fun fact. Afraid of the dark. Oh, that's a good motivation for invention, isn't it? The passage of time and temporality is always present in your work in some form. So, you know, again, referencing those laws of nature, from the representation of data that tracks hours of sleep, to comparisons between seasonal daylight and the collection of thousands of opium poppy seeds from your own garden over several seasons, and it suggests a real durational work that sort of a thread through your practice. is time a medium for you that you consciously practice or is that part of your work?
Sundari 15:01
Time is incredibly important to studies of sleep and to astronomy. And it's something that's really, I think, important in not only in my practice, but I think it's a reflection on how much it is a factor in the way we live our lives. When people… we talk about time all the time.
Kate 15:24
Yeah, ha ha ha.
Sundari 15:27
Excuse me.
But we do we, there's so many poems about time, there's lots of stories about time travel, or… we don't even really know what time is. I've started trying to read more and more about time, from a physicist's point of view. And it's very complicated. There's an astronomer, I think, from the Middle Ages, his name escapes me, but he famously said that 'if, if no one asks me, I know what time is. But when I'm, when I'm asked to explain it, I know not'. or something along those lines, and it is a mysterious force too, in a way we, we, we can stretch it to be quite long or short. And it seems malleable, but also something that just is like a current and just flows on, without, without any control. It's beyond our control, in a way. And the whole idea of daylight saving time, it's very interesting that that humans try to sort of control time, I think there's all these political ideas of, of time to like the way we set our clocks to be synchronized to the Greenwich Mean Time, because that historically, that's where they set these things up. And so that there's it's a very rich area to explore, and I'm sure I will keep exploring it. And yes, it does. There's, there's an element of time with the seasons and with the way that the Earth's orbit affects the growing of things. So like the poppy seeds that I've been collecting, I have to wait for them, I can't make them happen. They have their own time. And I have to work on their time, each season collecting the seeds, after they've sprouted and grown and bloomed and then losing their petals and then drying out. It's kind of similar to the way an astronomer works. They can't make the stars appear, they have to wait for them; we're at the mercy of time.
Kate 18:05
Some of your work references the black swan metaphor, and uses swan symbolism either explicitly or implicitly. Can you talk a little bit about what the black swan means, in the context of your work?
Sundari 18:20
The black swan, such a beautiful creature – again with the birds. The work of mine that uses the black swan, I think is quite different to everything else, in the way it appears. But there there are a lot of elements of it that follow the same thread. So the black swan was a mythical creature to Europeans, it didn't exist. The oldest ones that we can see are white, and therefore there are no black swans. And then there was the discovery of the Antipodes and we had black swans in Australia. And it disproved this idea that was completely false. And so the black swans only live in Australia. There used to be black swans in New Zealand, I believe. But these swans were brought back to Europe as novelty pets, I think. But in my work, the way I've depicted the black swan is I've come across a memoir written by a great, great aunt of mine, who was a nurse, a World War 1 nurse. Before the war broke out. She was living in London. She'd moved from rural Western Australia to London, and was working as a nurse in the hospitals there and she joined the monster march of the suffragettes and she and other Western Australian nurses decided to make a banner. And on that banner, they depicted the black swan. And so they marched, holding this black swan in London. And it's kind of this interesting for me that I mean, there's obviously a political aspect of the story that I could have gone down, that I could have followed, and worked with more, but I was just drawn to the idea of this, what was a mythical creature, but is actually alive. And is such a beautiful creature, and then being marched on a banner down the streets of London. And it kind of is like a way of showing a mysterious force or, or sharing, or empowering, something that wasn't seen; making something visible that was invisible.
Kate 21:02
Yeah. And on that 'making something visible', or, you know, sort of embodying something, your work often alludes to human presence, more implicitly, like the suggestion of a head impression on a pillow. And some of your works refer more overtly to bodies such as the use of masks. And that sort of directly references the corporeal as well as cultural practices. Can you tell me a little bit about cultural influences and how your formative years growing up in Indonesia helped shape some of your arts practice and some of those works that you've made with the masks?
Sundari 21:50
Hmm. It's an interesting question. I get asked a lot. What was it like growing up in Indonesia? And it's a difficult question to answer because I need to be able to make a comparison. And that was my only experience really, I didn't have two childhoods that I can compare. Grow growing up in Indonesia, I think, has had a lot of influence on my work, but not in any way that I deliberately make visible. It's such a rich visual culture there, especially in Bali, which is where I lived, and masks and temples and flower arrangements, paintings, there's just so much to see everywhere, and there's a big element of animism. So the island practices Hinduism, but it's a different kind of Hinduism, where it's combined with a lot of Buddhism and animism as well. So the trees and rivers, they are personified, and they are revered. And they have spirits, things that we can't see. But we, as the inhabitants of the island have to pay our respects to. And Bali is quite famous for the way that it depicts its culture through carvings and paintings. But I have been drawn more to the ideas of things that can't be seen, but are acknowledged as having a presence. I don't know if 'being drawn to' is even the right idea, I don't think I ever made a conscious decision to incorporate that it kind of just became part of part of how I saw things.
Kate 23:49
And your work, I think you've made a couple of works that sort of hinted at the volcanoes that were part of that experience, and how that relates back to your 'seen and unseen', you know, on the surface and hidden beneath the surface sort of themes.
Sundari 24:08
Yeah, I made my very first sculpture was a velveteen volcano, was four meters wide and almost two meters high or not quite. And it's called 'The Buildup', which alludes to this powerful, unseen force deep below the volcano, deep below the earth. So we can see the volcano and the crater. But there's this terror of the unknown when we see a volcano. We don't actually know when it could spew up all of that lava and erupt and change everything around it. And it was definitely a big part of the landscape in Bali and the rest of Indonesia. And I think, returning again to the idea of things that we can see are affected by things that we can't see. And we know that the invisible things are there, because of the way they affect things that we can see, kind of like consciousness and dark matter and dark energy. We don't know what they are, but we know that they're there because of the way they affect the things that we can observe.
Kate 25:41
Like gravitational pull, indeed, and the tides and everything connected. Yeah. Can you tell us a little bit about the new work that you've got in ACE Open in the exhibition called 'If the future is to be worth anything'.
Sundari 25:58
I've got a series of sculptures in the foyer of ACE Open, there's two concrete sculptures, which take up the form of architectural models, and they're black. And then there's two other suspended works. One is a brass ring. And the other is a sheer organza piece of fabric that is hanging from the ceiling all the way to the ground, and it has a gold leaf circle embedded in the center of it. And these works, I was developing them, in my mind, I think for quite some time. And I started working with clay while I was away on residency last year in Berlin, and I bought a bag of clay because I knew that I could make a lot of different things and then just put it in a bucket and just smoosh it all down and reuse it and just kind of sketch out my ideas. So I started playing around with these forms that look like architectural sites that are used in cosmic spaces. So like observatories or temples, or just dark sky spaces, where we can observe the night sky with the naked eye. And there are temples that I have referred to in the making of this work. There's also a site in India called the Jantar Mantar, which is actually a very scientifically accurate site where they have steps and towers that precisely align with certain times of the year, they precisely align with stars that they can observe. And it's essentially one big sundial, in a way, and I haven't visited this site, but I've seen images of it. And it resembles like a temple, but of science. And I was also exploring cathedrals, while I was away, and looking at thermal baths. And the way that these spaces, they create a mood, or have an atmosphere that is quite different to other spaces. They're contemplative; there's the sky and then or there's the water, and just air. There's just you in that space, either looking up, or looking in, to yourself. And so the site, the models that I've made from concrete, draw on a lot of these architectural spaces will and one, one of them in particular, does actually take the essential elements of a Water Temple in Bali, right next to my mother's house where I grew up. It has the steps leading into the water. And it's situated in a valley so the only view is up.
Kate 29:41
There's a, particularly with the works that you're talking about here, a very spiritual element. There's sort of a, you know, the contrasting or maybe complementary relationship between science and spirituality. And humans sort of grappling with that. Again, these works as sort of have a disembodied, you know, like a suggestion of humans with, you know, steps leading down and things that are there for humans to interact with. But, but again, there's that absence so that I suppose the audience can contemplate being in that space.
Sundari 30:20
Yeah, that's right. I think creating a model that is to scale would allow someone to sort of mentally walk through, walk through the space and imagine being in there to scale. I think we're, we're a pretty special creature, humans. I think there's a there's a lot of hatred, self-hatred, at the moment with with humanity. And rightly so. But I think we also need to appreciate the the specialness of being a being a human. I mean, my cat gazes up at the sky, but I don't know if it's the same kind of thing. There's a lot of wonder and yearning for something beyond that is quite unique to us. We we create so many artifacts, there's so many relics of spaces and objects that are reaching to the sky.
Kate 31:36
I think that's a really nice place to wrap things up with with us gazing into the abyss lying back and looking up into the darkness with all the light and stars and the unknown around us. So thank you for for joining me today, Sundari.
Sundari 31:52
Thanks Kate.
Episode 5: Juanella McKenzie
In this episode, Kate interviews Port Augusta artist, Adnyamathanha and Luritja woman, Juanella McKenzie.
Juanella is the recipient of the Country Arts SA Breaking Ground Award, and speaks to her next steps in developing this work.
Episode 4: DIY Audio Tour
This episode actually doubles up as a do-it-yourself Audio Tour! You can follow along in real life with your headphones in, or simply enjoy tuning in like you would any other episode. Hear from Jacinta Koolmatrie as we roam the CBD and recontextualise some of Adelaide's sculptures and monuments, visit Troy-Anthony Baylis' Nomenclatures at the Art Gallery of South Australia and finish up at  Nexus Arts with Makeda Duong's exhibition Mixed Race Female. Each stop falls within Adelaide's free tram zone and you can press pause as you move between them.
Stops:
Tarntanyangga (Victoria Square)
The Art Gallery of South Australia (10am-5pm)
Nexus Arts (Tue-Fri, 10am-4pm; exhibition open until 17 Sep 2020)
Episode 3: Textiles and Craftivism with Britt Burton & Sera Waters
Christina talks to Britt Burton, Public Programs Coordinator at the Centre of Democracy, and South Australian artist Sera Waters, about craftivism and textiles in art.
Episode 2: Artist Interview with Cassie Thring
Steph talks to SA artist Cassie Thring about her practice, her work bringing art to different communities, what it's like to have a space in Floating Goose Studios plus a few words from Olive the dog.
Music: 'Pinky' by Blue Dot Sessions via freemusicarchive.org
Episode 1: Artist Interview with Yusuf Ali Hayat
Steph interviews artist Yusuf Ali Hayat about his practice.