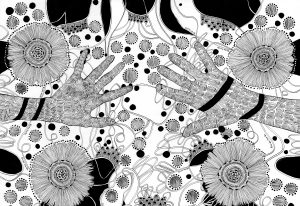 Nine South Australian artists have been selected to participate in the SALA Festival 2018 artist-in-residence program at a range of leading South Australian organisations.
Nine South Australian artists have been selected to participate in the SALA Festival 2018 artist-in-residence program at a range of leading South Australian organisations including SAHMRI (South Australian Health & Medical Research Institute), Adelaide Festival Centre, Flinders Medical Centre, Country Health SA's Mental Health unit at Glenside and new this year the Royal Adelaide Hospital.
Drawing duo Laura Wills and Anna Dowling have been selected to work with The Wardliparingga Aboriginal Research Unit at SAHMRI. Together the artists will explore how Wardliparingga harnesses traditional knowledge about health and wellness to improve health outcomes for the community through a series of individual and collaborative drawings.
Arts in Health at Flinders Medical Centre are hosting contemporary artist Bridget Currie who will be working with drawing and sculptural objects to make visible, the powerful yet invisible experience of pain.
Country Health SA and the University of South Australia offer two residency positons at country mental health inpatient units located in the Glenside Health site.  This year they will host emerging artists Thomas Readett and Ashton Boyd aka Bay the Artist in the lead up to SALA Festival.
"This residency is a great opportunity to shine a light on mental health. Art is a fantastic platform for communication and I look forward to sharing it", said Ashton.
Thomas is also excited about the opportunity, "I believe exposure brings understanding and through understanding we can begin to think about treatment and recovery.  My main investigation will be how creativity and creative thinking processes can enhance treatment."
Adelaide Festival Centre will welcome sculptor Tom Borgas and multidisciplinary visual artist Elise Bonato to respond to the working life of the Festival Centre.
New to the SALA Festival residency program this year is the Centre for Creative Health at the Royal Adelaide Hospital. Sculptural artist Lorry Wedding-Marchioro plans to create a series of kinetic sculptural installations in several of the small courtyards situated within the RAH. And emerging artist Jane Skeer intends to develop a new body of site specific sculptural work responding to the RAH and its surroundings.
The work inspired by the residency of each artist will be exhibited in their respective venues during this year's SALA Festival from 1-31 August 2018.
The SALA Festival has become an important event in South Australia's arts calendar; last year the festival included 660 exhibitions featuring 6,000+ participating local artists state-wide.
SALA started its artist-in-residence program in 2014 and each year it grows and benefits the participating artists and host organisations. The residency offers artists an insider's perspective and in turn they interpret the business of the host organisation and its activities through art.
Exhibition registrations to be part of the 2018 SALA Festival are now open until Monday 14 May – go to salafestival.com for more information.
ABOUT THE ARTISTS
Anna Dowling was born in Adelaide, South Australia. Anna is a descendant of the Badimia people of the Yamatji region in Western Australia. Working in ink on paper, she reflects on her mixed cultural heritage and draws on traditional symbols and patterns.
Anna works to create art that reflects the beauty, diversity and incredible value of Aboriginal culture. She seeks to further her artistic skills and knowledge by learning from artists and community leaders. At age 21, Anna Dowling was the recipient of the 2014 Don Dunstan "Our Mob" Emerging Artist Prize. In 2015, Anna was a finalist in the National Aboriginal and Torres Strait
Islander Art Awards (NAATSIA) and in 2016 was awarded the Max Indigenous Art Award (youth category winner) at Parliament House in Sydney.
Laura Wills is an Adelaide based visual artist. She has a multidisciplinary practice and a strong interest collaboration, using found materials and basing projects on social/ environmental themes. She regularly exhibits and has received numerous grants, awards and residencies in Australia and overseas. In 2017 Laura was associate artist with Open Space Contemporary Art, participated in a residency at Rimbun Dahan in Malaysia and developed a new series of digital painting portrait works of prominent South Australian female farmers for FRAN Festival. Laura also won the Adelaide Hills Landscape Prize and is currently working on several collaborative public art projects with William Cheesman. In 2018 she is exhibiting at the London Photo Fair with James Tylor and will be on residency at Sauerbier Art House, Port Noarlunga.
Bridget Currie works in sculpture, photography, performance and video, but her work has a strong awareness of the history of sculpture and the philosophy of spatiality. The things she makes reveal a curiosity about how the forces of life and death act to make the world. For the last ten years she has been building a highly personal lexicon of forms and actions with materials such as wood, bread, salt, clay, cloth, vegetables and their qualities. Currie graduated from a Master of Visual Arts by research in 2006 and has shown widely internationally and in Australia including at: the Australian Experimental Art Foundation, Artspace Sydney, PICA, 24 Hr Art and the Contemporary Art Centre of South Australia, Independent artist run spaces and at Greenaway Gallery, Grant Pirrie and Ryan Renshaw. In 2007/08 she was a resident at the CCA Kitakyshu in Japan and In 2011/12 at the Kunglia Konsthogskolan in Stockholm, supported by an Anne and Gordon Samstag Scholarship. Since 2012 she has exhibited in Sweden, Belgium, the UK, Lithuania and Spain including at the most recent Baltic Triennial. In 2016 she presented a performative lecture on fermentation and her art practice at Bulegoa z/b in Bilbao, and in October 2016 she was artist in resident at Rupert in Vilnius, Lithuania presenting the first showing of 'Theory of meadowness'. She returned to Australia in 2016 and in 2017 presented a collaborative dance and installation project for 'Versus Rodin' a major survey show of international sculpture responding to the oeuvre of Rodin, curated by Leigh Robb at the Art Gallery of South Australia.
Thomas Readett  is an emerging artist currently working from Ripple Studios, Port Adelaide. Thomas has been drawing since he was a child – he began painting while studying at Adelaide Central School of Art. This is now one of his main practices among others. Thomas graduated his study at Adelaide Central School of Art completing his Associate Degree and Bachelor of Visual Arts Degree (BVA) in 2015. During his time at Adelaide Central School of Art he held group shows with fellow graduates and ended the degree with his final body of video work based around ideas of Solitude and a personal journey through his identity. Thomas has since exhibited solo shows "Beneath the Skin" and "Dark Light". He also works at The Art Gallery of South Australia as Tarnanthi Education Officer.
 BAY's instantly recognisable abstract work is inspired by her Tongan heritage and mental health. Her collection 'Mind Maps' reflects her own journey of self-discovery and resonates with anyone seeking to better understand their identity and experiences.
Growing up, the now twenty-something from Adelaide did not know she was Polynesian. It was only recently that she discovered that many drawings from her childhood have an indigenous Polynesian aspect. Bringing her experiences and challenges into the spotlight through art has helped those around her consider their own situation. The artworks have become a talking point for many, offering a space of calm and an opportunity for reflection.
Elise Bonato  is a practitioner of the visual-aural arcane. Her predominantly experimental and performance-based practice aims to create an oeuvre of elegiac beauty through a synthesis of moving image, installation, drawing and painting.
Elise completed graduate studies in 2012, awarded with First Class Honours in Visual Arts at the University of South Australia, with an investigation into the use of video installation as a means of presenting a contemporary sublime. She is a recipient of the Australia Council for the Arts ArtStart Grant and the American Australian Association's Dame Joan Sutherland Fund.
In recent years, she has exhibited locally in Australia as well as internationally in the United States at a number of artist-run galleries and art institutions. She has also performed and exhibited at a variety of arts festivals, including the Adelaide Fringe and the South Australian Living Artists (SALA) Festival. Elise most recently lived and worked in Brooklyn, New York, participating in a six-month residency with the New York Art Residency & Studios (NARS) Foundation.
Tom Borgas' work is foundationally sculptural but extends to include performative and participatory elements as a means of engaging an audience.
Borgas' work has been exhibited at shows and galleries around Australia including the Contemporary Arts Centre of South Australia, The Jam Factory, Salamanca Arts Centre in Hobart, FELTspace ARI, Hatched 2013 and PICA Salon 2014. He the recipient of a number of awards, prizes including an the NAVA Ignition Prize for professional practice, the Hill Smith Gallery/Helpmann Academy Friends Travel Prize and the 2015 Lismore Regional Gallery Splendour in the Grass New Art Commission. His practice is also supported through contributions from the Australia Council for the Arts, Arts SA and the Helpmann Academy. Tom is represented by Hill Smith Gallery, Adelaide, Australia.
Lorry Wedding- Marchioro has been a practicing artist for over twenty years, initially as a glass artist but in the past decade concentrating on creating larger works from various materials. In recent years she has been successful in creating work for Public Art projects such as "Then and Now", for the Onkaparinga Council and last year, creating two works for the City of Charles Sturt, one of them "Zephyr", a series of kinetic, wind powered sculptures. Throughout her career Lorry has maintained an active exhibition profile, most recently exhibiting at the University of South Australia Gallery, showing the kinetic work, "Morphic Resonance", in the Sound, Water, Waves exhibition. Constant themes within her work are -the involvement of the perception of the observer, a sense of play and the random nature of reality.
Jane Skeer works predominantly in sculpture and installation, with found objects and repurposed materials. She is known for her playful works that engage all the senses.
Her award-winning work, Quiet Square, was included in the prestigious Perth Institute of Contemporary Art's Hatched 2016. The work was first exhibited in Adelaide Central School of Art's Propositions 2015 Graduate Exhibition, and then selected for exhibition in the 2016 Helpmann Academy Graduate Exhibition. It was acquired by Chester Osborn of d'Arenberg Winery, to be displayed in the d'Arenberg Cube in McLaren Vale.
#salafestival
@salafestival
Facebook facebook.com/SALAFestival
Media contact: Penny Griggs [email protected] OR 8233 0675 OR 0401 307 477