Fake Record Shop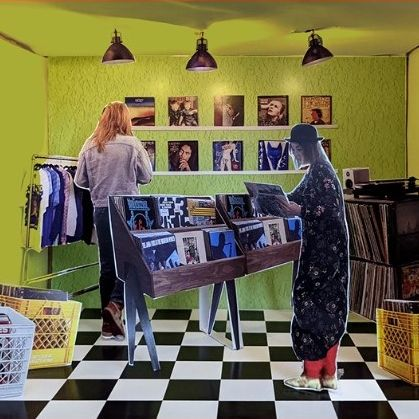 Nicholas Hanisch and Rosina Possingham,
Fake Record Shop
, Digital
Emerging
Digital, Drawing, Ephemeral, Installation, Mixed Media, Multimedia, Painting, Performance, Photography, Print-making, Sound
Jasmine Crisp, Annelise Forster, Nicholas Hanisch, Jake Holmes, Barry Magazinovic, Timothea Moylan, Billy Oakley, Valentina Pepe, Rosina Possingham, Cassie Thring
Exhibition
A hybrid visual art and live music group exhibition centred around a fictional record store, and is an exploration into vinyl albums, merch design and the collaborative culture surrounding the creation of music. The exhibition will include a group of Adelaide-based visual artists, each creating album covers and merchandise for imaginary bands or musicians. Local musicians will be performing and interpreting the fake bands live on the opening night.
4-29 Aug
Mon-Sun 11am-6pm
Opening Event
04 Aug , 06:00 pm-08:00 pm