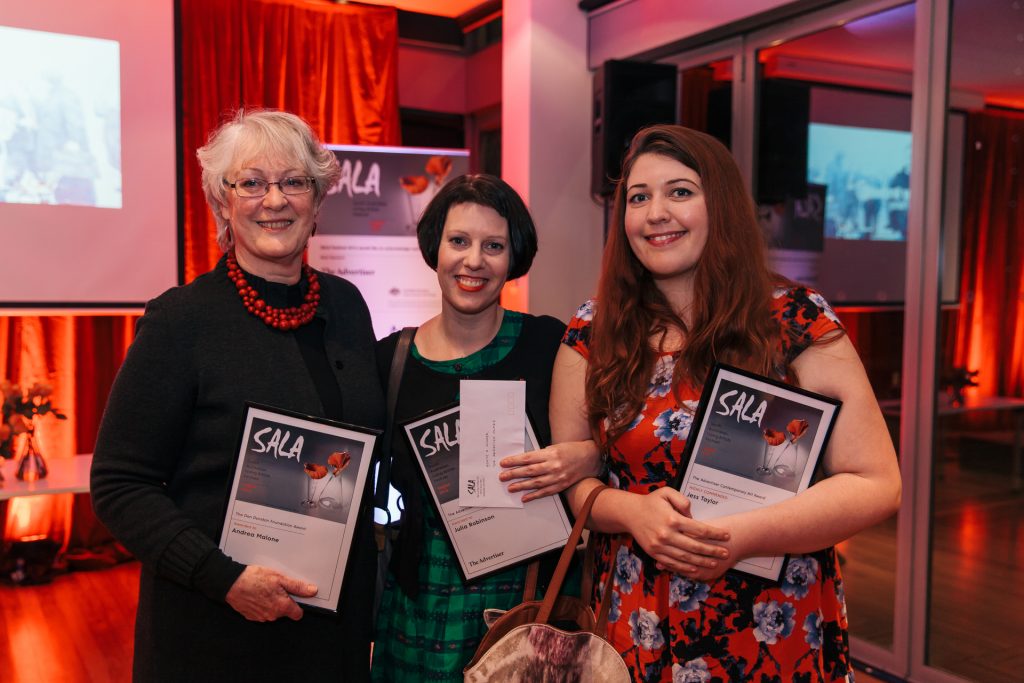 2016 SALA Festival Awards winners announced
South Australia's top artists share in more than $30,000 in prizes
Ten of South Australia's top professional and emerging artists have shared in more than $30,000 in prizes at the 2016 South Australian Living Artists (SALA) Festival Awards, announced tonight (Friday, July 8).
Announced in a gala ceremony held at The Advertiser building in Adelaide, the annual awards recognise artistic achievement across all mediums and practices, judged by a panel of experts and influencers across the arts, media and commercial sectors.
Renowned Port Elliot based print maker Chris De Rosa was honoured with the night's biggest cash prize, winning the $10,000 Country Arts SA Breaking Ground Award to further develop her recent work exploring three dimensional sculpture. As part of her prize, De Rosa's works will be exhibited in the Light Square Gallery at AC Arts during SALA 2017.
Sculptor and installation artist Julia Robinson took home The Advertiser Contemporary Art Award for the most outstanding contemporary work, winning $5,000 cash for her whimsical fabric sculpture "Rutting Creature".
The $3,500 Don Dunstan Foundation Award for work exploring themes of homelessness, mental health, migration or economic participation went to painter Andrea Malone for her evocative portraits of Vietnam veterans suffering from post traumatic stress disorder, commemorating 50 years since the Battle of Long Tan.
Tobias Staheli won the $2,500 Centennial Park Environment Award for his delicate wooden sculptures of leaves, while TinaJade Panagaris took home the $2,500 City Rural Emerging Artist Award for her mixed media works of birds blending mammalian and reptilian features.
New for 2016, the $2,000 City of Unley Active Ageing Award for over 60s artists went to Sheila Whittam, who also receives a dedicated exhibition space in Unley for the 2017 SALA Festival.
Photography was well represented in the awards with Scott McCarten winning the $500 Adelaide Review Outsider Artist Award for his dark and edgy urban photoscapes, and 22-year-old Emmaline Zanelli winning the $500 Adelaide Review Young Artist Award (formerly the Rip It Up Young Artist Award) for her provocative photographic works.
Emerging photographer Nathan Stolz also took home the Centre for Creative Photography Latent Image Award, consisting of $700 worth of in-kind assistance.
The OZ Minerals Copper Sculpture Award went to Mary Ann Santin, who receives copper donated by OZ Minerals to create her artwork "Pinny" for SALA 2017.
SALA Festival Director Penny Griggs commended the winners and finalists, saying the high standard of entries in this year's awards had made the judges' task even more difficult.
"Every year we are consistently impressed at the high quality of works submitted for the SALA Awards, and 2016 was absolutely no exception," Ms Griggs said.
"This year we received more than 300 entries from artists of all backgrounds and forms of expression from right across South Australia, showing the incredible breadth of artistry we have in this state."
The Advertiser Contemporary Art Award winner Julia Robinson's work "Rutting Creature" is currently showing along with other finalists' work in the lobby of The Advertiser building at 31 Waymouth Street, Adelaide, and will remain on display for the duration of the SALA Festival.
Finalists and winners of other award categories will be showing in various exhibitions around Adelaide during the festival, which opens August 1.
One of the most beloved events on South Australia's arts calendar, the SALA Festival is an innovative, open-access visual arts festival celebrating and promoting the diverse talents of South Australian Living Artists.
Encompassing all forms of visual art from painting, sculpture and jewellery to video and multimedia and much more, the festival presents the works of thousands of established and emerging artists through unique collaborations and exhibitions in hundreds of spaces throughout metropolitan and regional South Australia every August.
The full 2016 SALA Festival program will be officially released in The Advertiser tomorrow (Saturday, July 9).
For the full list of awards, winners and finalists, please see the attached media release.
MEDIA INQUIRIES: Contact publicist Petra Starke on 0407 799 907 or [email protected]