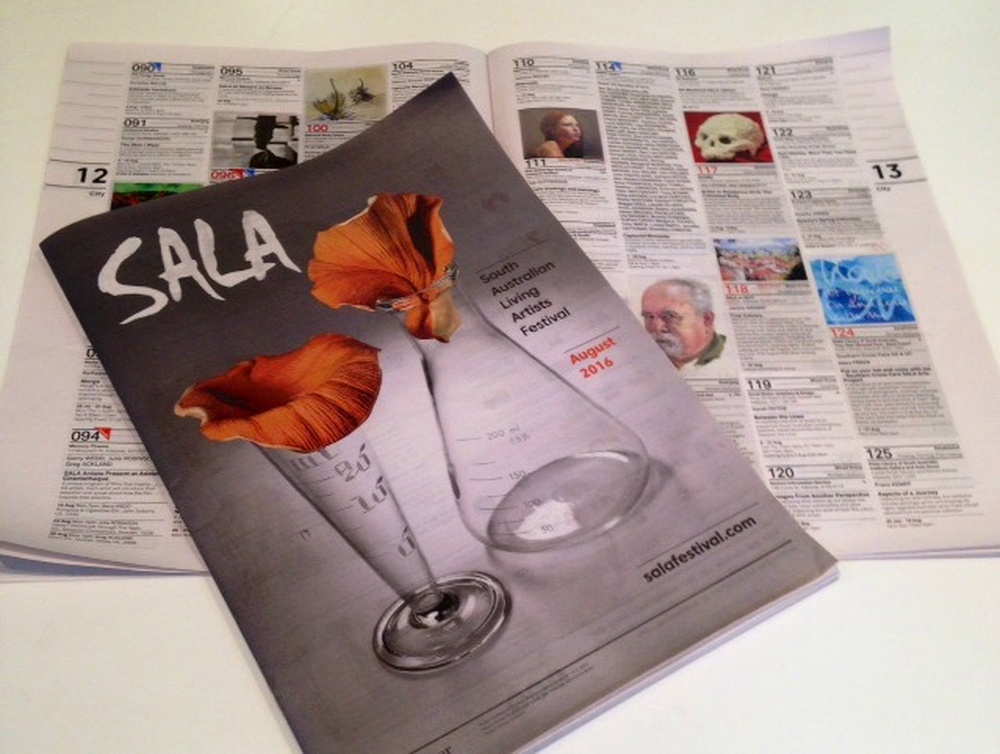 South Australia's biggest visual arts festival will get the state's art started with more than 600 exhibitions over 31 days.
2016 SALA Festival program officially released today
South Australia's biggest visual arts festival will get the state's art started with more than 600 exhibitions over 31 days
With just three weeks to go until the official opening, the 2016 South Australian Living Artists (SALA) Festival has released its biggest program to date, presenting the works of more than 4600 artists in 630 free exhibitions across Adelaide and regions throughout August.
Encompassing all forms of visual art from painting, sculpture and jewellery to video, multimedia and more, the 19th SALA Festival will put on a state-wide arty winter feast as 570 venues from pubs and cafes to wineries, bookshops and even pharmacies are turned into pop-up art galleries for 31 days.
Some of Australia's most exciting and dynamic artists, both established and emerging, are represented in this year's program, including: Catherine Truman, Robert Hannaford, Nick Mount, Fiona Hall and David Dridan.
Highlights of this year's festival include:
SALA IN THE SQUARE: SALA hits Victoria Square for the first time, transforming it into a buzzing festival hub where artists will stage pop-up exhibitions in shipping containers. Meet the artists, view their work, or get information about other exhibitions from the official SALA information booth. Official opening Monday August 1, 1pm, featuring live performances by special guests from the Adelaide Guitar Festival.
ART AT THE AIRPORT:  Adelaide Airport will once again be transformed into a giant art gallery as 13 artists including Trent Parke, James Dodd, Chris De Rosa and Peter Drew explore the physicality, beauty and rawness of life in Australia as part of the "Great Southern Land" exhibition. (August 1 to September 11)
SALA GOES GUITAR: A collaboration with the Adelaide Guitar Festival will see live performances by musicians at a selection of SALA exhibition openings across Adelaide. (July 15 to August 10)
"LA VITA" CHARITY LUNCH WITH POH: Celebrate art, food, wine and life at this very special lunch as TV celebrity, artist and chef Poh Ling Yeow from Jamface creates your favourite Mediterranean delights surrounded by stunning works by local artists at Centennial Park. Proceeds support the Mary Potter Foundation and Daw House Hospice Foundation. (Sunday, August 7, $100pp)
SALA IN THE GARDEN: A jam-packed carnival of arty fun for the whole family at Unley Road's Soldier's Memorial Gardens, with demonstrations, children's art workshops, live music and local food and wine. (Sunday, August 21, 10.30am to 4.30pm)
ART AFTER DARK: SALA gets going when the sun goes down, bringing Adelaide's West End to life with walking tours, exhibition openings and a "PechaKucha" night – a fun event for creative people to share ideas. (Thursday, August 18, 5pm to 9pm).
MORE ART TOURS:  Walk, cycle or drive your way through SALA and the RAA's more than 40 art tours across the city, suburbs and regions, including 22 bi-lingual Chinese tours and a range of self-driving routes through McLaren Vale, the Adelaide Hills and the Barossa.
THE ARTISTS' VOICE FORUM: A host of top practicing artists will lead a full day of discussion and debate at the Art Gallery of SA's Radford Auditorium about the state of visual arts in SA, now and in the future. (Saturday, August 27, 10.30am to 4pm)
This year's festival also sees five official artist residencies, with Fran Callen, James Dodd, Jessie Lumb, Joy Levins and Niki Sperou working in and around the SAHMRI, Adelaide Festival Centre, Flinders Medical Centre and the Central Market to create artworks inspired by their surroundings.
SALA Festival Director Penny Griggs said with a record number of exhibitions, the 2016 program cemented August as "visual art month" in South Australia, with art and cultural events to cater to all tastes.
"SALA is the only festival in our state that focuses on local artists. August is the time to meet your local artists and view the world through their eyes. Rejoice in the 630 exhibitions and events celebrating South Australian artists and their art," she said.
The 2016 SALA Festival will be officially opened on Friday, July 29 at an invitation-only gala at the Art Gallery of South Australia. SALA featured artist and recipient of the 2016 SALA Wakefield Monograph Catherine Truman will be keynote speaker at the event, and will announce the recipient of the 2017 title.
More information about all SALA exhibitions and events, including the full 2016 SALA Festival program, can be found online at www.salafestival.com or by calling 8233 0676. All SALA events are free unless otherwise noted.
MEDIA INQUIRIES: Contact publicist Petra Starke on 0407 799 907 or [email protected]