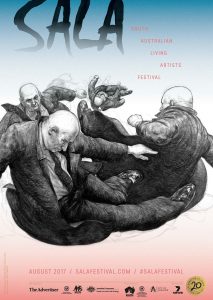 Adelaide's arts scene is hotting up as the SALA Festival prepares to celebrate its 20th year with a bumper program of exhibitions, arts and cultural events across the state throughout August. Today 31 South Australian artists have been announced as finalists in the 2017 SALA Awards, with more than $38,000 in cash and prizes to be won across nine categories.
It may be the middle of winter, but Adelaide's arts scene is hotting up as the South Australian Living Artists (SALA) Festival prepares to celebrate its 20th year with a bumper program of exhibitions, arts and cultural events across the state throughout August.
With the official 2017 program due to be released Saturday July 8, this year's SALA festival will feature hundreds of exhibitions of all forms of visual art from painting, sculpture and jewellery to video and installation by some of Australia's most exciting and dynamic artists, as well as a range of special events celebrating SALA's milestone year.
Today 31 South Australian artists have been announced as finalists in the 2017 SALA Awards, with more than $38,000 in cash and prizes to be won across nine categories from contemporary art to photography, multimedia and "outsider" art.
Major awards include The Advertiser Contemporary Art Prize, the Unitcare Services Moving Image Award for multimedia and video artists and The City Rural Emerging Artist Award. A full list of finalists is below, with winners to be announced at the SALA Awards night on Friday July 7.
Running August 1 to 31, the SALA Festival presents the works of thousands of local visual artists in hundreds of exhibitions throughout Adelaide and regions, transforming hundreds of venues from pubs and cafes to wineries, bookshops and even cinemas into pop-up art galleries for 31 days.
Now in its 20th year, SALA was launched in 1998 by Paul Greenaway OAM (Director, Greenaway Art Gallery) and Sam Hill-Smith (Director, Hill-Smith Fine Art Gallery) through the Australian Commercial Galleries Association (ACGA) to celebrate the talents of South Australian artists and create new audiences and opportunities for their work.
Originally called "SALA Week", the event launched as an inclusive, open-access festival featuring exhibitions in 41 venues. Now under the leadership of General Manager Penny Griggs SALA has grown exponentially to become a month-long celebration of local art throughout the state, last year presenting the works of more than 4,600 artists in 630 free exhibitions across 570 venues.
SALA is now recognised as the largest community based visual arts festival in Australia.
SALA Festival General Manager Penny Griggs said: "Over its 20 year history the SALA Festival has cemented August as South Australia's visual arts month, where artists of all skill levels are celebrated and acknowledged. This innovative, inclusive festival not only gives both established and emerging artists a platform to showcase their work and reach new audiences, it also allows the general public to connect with their local artists and view the world through their eyes. It might be cold outside, but thanks to SALA, winter is the hottest time of year to get out and experience art in all its glorious forms."
Minister for the Arts the Hon Jack Snelling said: "For 20 years SALA has provided a platform for our best, emerging and grass roots visual artists to showcase and sell their products, and every year the program gets bigger and better. The state government is incredibly proud to support this important month on our arts calendar, and I can't wait to see what our South Australian artists have in store during August."
SALA Festival Chair the Hon John Hill said:  "Who could have imagined 20 years ago that the SALA Festival would become such a huge success? In 2016 SALA attracted an audience of over 600,000 visitors to more than 600 events and exhibitions, held in every part of our state. For all of August each year artists are connected with audiences. That simple idea was at the heart of the SALA project back in 1998 and it still powers the festival today."
The 2017 SALA Festival program will be released on Saturday July 8, with stunning cover artwork by this year's SALA Featured Artist Christopher Orchard, a multi award-winning artist with a career spanning more than four decades. Orchard's work has also been commemorated in the official 2017 SALA monograph, funded by Arts South Australia and published by Wakefield Press, to be launched at the festival's opening night event at the Art Gallery of South Australia on July 28.
"From the length and breadth of this great state, SALA helps artists to engage with each other and an incredibly broad audience to recognise not only their work, but the place of that work in the heart of a properly functioning society. As an uncurated, inclusive celebration of the visual arts in South Australia, from professional artists to weekend hobbyists, SALA has a place for all," Mr Orchard said.
The 2017 SALA Festival runs from August 1 to 31.
2017 SALA AWARDS – FULL LIST OF FINALISTS
The Advertiser Contemporary Art Award
$5,000 cash for the most outstanding contemporary work in any medium.
FINALISTS: Alice Blanch, Verity Jasmin Burley, Wesley Harrop, Bernadine Johnson, Julia McInerney, Sonali Patel, Tom Phillips, Deborah Prior, Carly Snoswell, Karlien van Rooyen, Laura Wills.
Unitcare Services Moving Image Award
$5,000 cash for an artist working in moving image or new media.
FINALISTS: Trent Parke and Narelle Autio, Che Chorley, Sophie Corso, Paul Forza.
City Rural Emerging Artist Award
$2,500 cash for an artist in the early stages of their career with under five years professional experience.
FINALISTS: Paloma Concierta, Steph Fuller, Jane Skeer.
The City of Unley Active Ageing Award
$2,000 cash and an exhibition space in Unley for SALA 2018 for an artist over the age of 60.
FINALISTS: Tina Barr, Andrea Malone, Judy Parham.
Adelaide Review Outsider Art Award
$1000 cash for an artist who identifies their work as "outsider": art created outside the boundaries of the established art scene.
FINALISTS: Alana Gregory, Len Harvey, Steve Oatway.
Centre for Creative Photography Latent Image Award
Up to $725 worth of in-kind assistance for an emerging artist using photography.
FINALISTS: Tracy Lymn, Lee Walter, Gabrielle Waters.
Atkins Photographic Award
An edition of three giclee archival fine art prints for an artist working in photography.
FINALISTS: Alice Blanch, Trevor Comley, Bridgette Minuzzo.
Third Royal South Australian Society of Arts Biennial Portrait Prize
Cash prizes up to $21,750 for artists creating portraits in any medium.
Finalists will be announced in early July, and exhibited from July 30 to August 27 at the RSASA Gallery, Kintore Ave, Adelaide. Winners will be announced at the exhibition opening on July 30.
SALA Festival Patron's Art Writer's Award
One month residency at international art complex Phasmid Studios in Berlin, Germany, including return flights, for visual arts writing about South Australian living visual artists.
This award is open to writers from anywhere in the world, with nominations closing at the end of August.
MEDIA INQUIRIES: 
Contact Publicist Petra Starke on 0407 799 907 or email [email protected]
MEDIA DOWNLOADS: 
Download high-res images of the 2017 SALA Awards finalists' artwork at: bit.ly/2017SalaAwardsFinalists 
SALA FESTIVAL ONLINE:
Website:salafestival.com
Facebook:facebook.com/SALAFestival
Twitter & Instagram: @SALAFestival
Official hashtag: #SALAFestival