SALA Festival is proud to have Credit Union SA as our Education Partner, supporting the visual arts in schools and school participation in the Festival.
Every year South Australian schools and early learning centres register exhibitions of student artwork to be part of the SALA Festival in August. This provides young people with real exhibition experience, and places them in the same program as some of the state's most established artists. Each year a selection of school exhibitions are recognised in the Credit Union SA School Awards. Visit our School Participation page for more information & FAQs.
Another way that the visual arts are being nurtured in South Australian schools is through the Schools Artist in Residence program, a pilot program presented by SALA Festival and Credit Union SA. Practicing South Australian visual artists are paired with schools to deliver engaging and dynamic learning and support educators in providing diverse learning opportunities for students. 
August is an opportune time for educators to explore the work of South Australian living artists in their teaching. The SALA Program is released in July, allowing educators to see the array of South Australian artists putting on art exhibitions and events before the Festival starts in August. The SALA App provides an interactive map that shows exhibitions nearby, which can useful when planning excursions. The program is also filterable by event type so that you can search for online exhibitions, physical exhibitions, artist talks or demonstrations specifically. SALA produces an Education Resource each year to provide a starting point for exploring the work of the SALA Feature Artist in the classroom.
2020 Education Exhibitions
The Education Resource is developed each year in response to the work of SALA Feature Artists, intended to help educators to incorporate the work of South Australian living artists and the SALA Festival itself, into their teaching. 
Click on the picture of the resource to open it.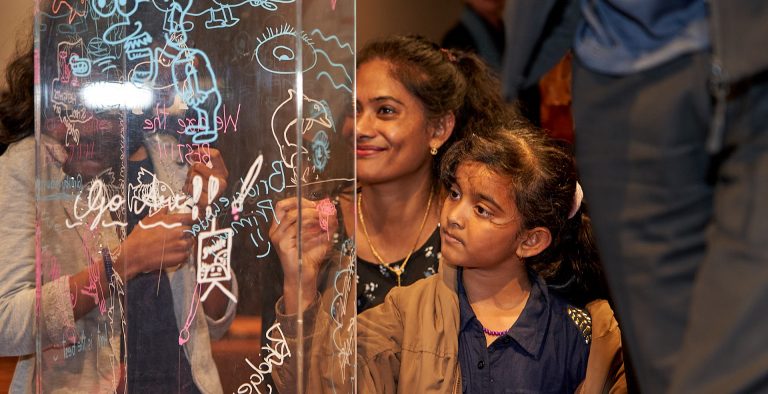 Credit Union SA School Awards
Established in 2018, the SALA School Awards aim to encourage South Australian schools to participate in the annual SALA Festival in August.
Every school exhibition registered in SALA 2020 is automatically entered into the awards. Schools will be judged during August and the winners will be announced in September 2020.
Credit Union SA will award a prize of $2,500 to winning schools, and a prize of $1,000 to commended schools, recognising different strengths and creativity in presenting student artwork to the community.
WINNERS
St John's Grammar 
Conversations with Line 
Riverland Special School
Sensory Stars 
The Heights School
The Heights School Art Exhibition Competition 
St Gabriel's School
Gabriel's Gallery 
COMMENDATIONS 
Bridgewater Primary School 
The Earth Beneath Our Feet 
Woodside Primary School
We All Smile in the Same Language
Bowden Brompton Community School
Kill the Streets 
Primary School Award:
Joint Winners: Woodside Primary – Plastic Oceans
St Brigid's School – Identity Explorers
Runner Up: Elizabeth Grove Primary School – Square-eyed
Secondary School Award:
Winner: South Coast collective of schools including
Encounter Lutheran College, Investigator
College and Victor Harbor High School
– SALA School Art Show
Joint Runner Up: Bowden Brompton Community School
– Work Hard Dream Big
St John's Grammar School
– Current Practice