Education: Schools & SALA
SALA Festival is proud to have Credit Union SA as our Education Partner, supporting the visual arts in schools and school participation in the Festival at many different levels.
Educators wanting to get involved with SALA Festival should head to our School Participation page for more details and sign up to the Educator Mailing List for updates.
Every year we get the chance to check out artwork by the next generation of South Australian artists. Schools and pre-schools are invited to share their students' work on campus, off-campus, or online. Check our their exhibitions using the button below!
Art careers made tangible
With SALA exhibitions reaching across the state, August is an opportune time to weave SA artists into the curriculum and expose students to people in their communities who have made a career in the visual arts. 
SALA announces their annual Feature Artist ahead of each festival, which Educators can incorporate into their teaching. The Feature Artist's work is celebrated on the official Festival poster, in an exhibition in the Festival, and through the development of a publication through Wakefield Press.
The SALA Program is released in July both in print and online, with Educators able to see which artists will be exhibiting -and in which venues- ahead of the Festival. The online Program and the free SALA App (App Store/Google Play) provide an interactive map that shows exhibitions nearby, which can be useful for planning excursions. The program is also filterable by event type so that one can search for online exhibitions, physical exhibitions, artist talks or demonstrations specifically.
Another way that students can be involved in SALA is to exhibit their art. Every year South Australian schools and early learning centres register exhibitions of student artwork to be part of the Festival in August. This provides young people with real exhibition experience and places them in the same program as some of the state's most established artists. It also provides the wider South Australian community with a glimpse at our future artists. Use the filters when searching the online SALA Program to see which school near you is putting on an exhibition.
Credit Union SA School Awards
Each year a selection of student exhibitions are recognised in the Credit Union SA School Awards. Established in 2018, the School Awards aim to encourage South Australian schools to participate in the SALA Festival. Credit Union SA offer a prize of $2,500 to winning schools, and $1,000 to commended schools, recognising different strengths and creativity in presenting student artwork to the community.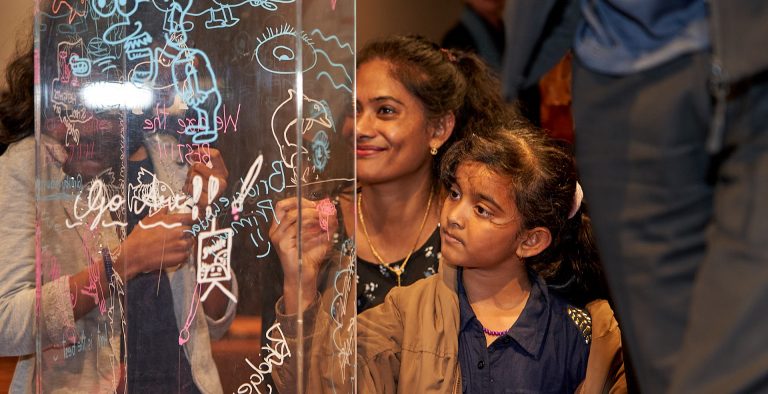 Another way that the visual arts are being nurtured in South Australian schools is through the Artists in Schools Program, presented by SALA Festival and Credit Union SA. Practicing South Australian visual artists are paired with schools to deliver engaging and dynamic learning and support educators in providing diverse learning opportunities for students.