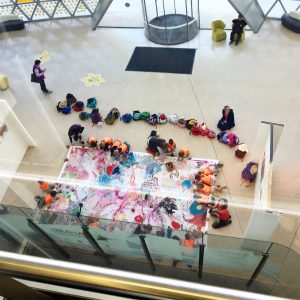 Submitting a Proposal to the Residency Program at SAHMRI
In association with the SALA Festival, South Australian Health & Medical Research Institute (SAHMRI) is inviting proposals for participation in an Artist-in-Residence program in 2019 from South Australian artists or groups of artists for up to six months.
Proposals must include an outcome of new works inspired by SAHMRI activities and is suitable for display at SAHMRI during the SALA Festival in August 2019.
Proposals need to include the following:
1. An up-to-date CV for each participant
2. A selection of images of previous work with detailed information.
3. An outline of your intended residency project (media, concept, possible activities, potential outcomes)
4. The intended time frame and;
5. An indication of your needs for residency space and display area
Successful participants will receive an office space to work in the building as well as access to observe and interact with SAHMRI staff and research laboratories.
SAHMRI will require the successful participants to sign a confidentiality agreement due to the sensitive nature of SAHMRI's activities.
Residencies are considered according to proposal strength, relationship to the SAHMRI activities or infrastructure and availability of space.
Artist Fee – selected individual artists or artist teams will be paid a total fee of $2,000 (ex GST). $1,000 will be paid upon signing the MOI to assist artists with materials and expenses with the final payment of $1,000 being issued on completion of the project.
SAHMRI research themes;
– SAHMRI Women and Kids
– Aboriginal Health Equity
– Precision Medicine
– Heart, Brain and Metabolic Health
For more information about SAHMRI go to https://www.sahmri.com/ or contact Dr Hannah Brown, Chief Science Storyteller ([email protected])
Please submit proposals by 5pm on 15 February 2019 via email with a link to a Dropbox to: [email protected].
The successful applicant will be informed by 25 February 2019.
Past recipients of the SAHMRI / SALA artist-in-residence programs

Image: Kindergarten class participating in 2018 SAHMRI artists-in-residence project, Heartlines, an Indigenous-themed community drawing project by artists Laura Wills & Anna Dowling, hosted by The Wardliparingga Aboriginal Research Unit. Photo: Laura Wills.